Ranger Tugs R-23
By Peter A. Robson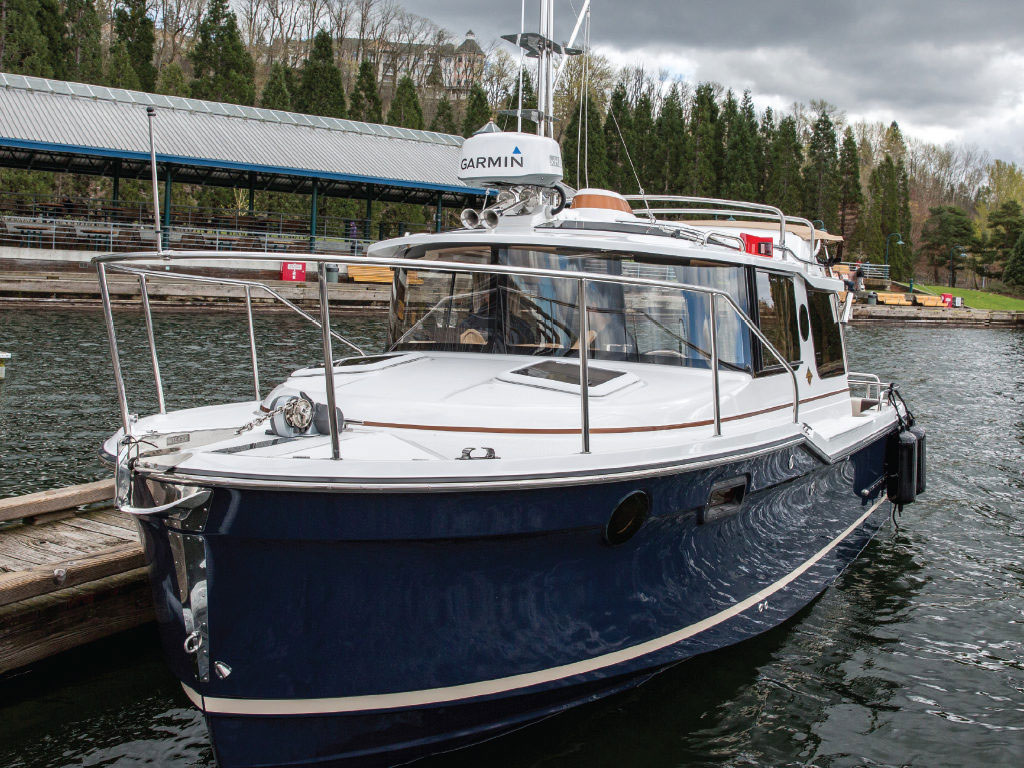 One doesn't expect to get many cruising amenities in a 23-footer, but Ranger Tugs' new R-23 has pretty well everything one needs to head off for a day, week or longer. It's powered by either outboard or sterndrive and it's fast, fuel-efficient and handles very well.
For those not familiar with the company, John Livingston, son of legendary yacht designer David Livingston, acquired the design for the Ranger 21 in 1999. He extended the cabin and made a number of other changes. He has since designed and built another seven Ranger Tugs models at the company plant in Kent, Wash.
More recently, Livingston designed the popular Cutwater line of yachts, which is produced in Munro, Wash. All models in the Cutwater and Ranger lines are less than 31 feet, which may be one reason for the company's success—they've kept to the small, capable pocket cruiser niche and proved extremely successful at it.
Design and Construction  The R-23 is new from the keel up, so there is no use comparing its hull design, deck or cabin to its siblings. John Livingston describes the hull as a sort of hybrid, with a deep-V bow entry that extends about a third of the way aft. Aft of this is a flat platform-type area with a deadrise of 11 degrees. That steepens to 24 degrees at the transom. Reverse hard chines and lifting strakes help with stability and getting up on the plane. Another design feature is a series of patented Laminar Flow Interrupters. These are small, shallow oval "troughs" on each side about a quarter to a third of the way back from the bow. As the name implies, they are designed to reduce the surface tension of the water so that the hull doesn't "stick" to the water or oscillate in sharp turns at speed.
The hull is hand-laid fibreglass, solid below the waterline with a vinylester barrier coat to protect against osmosis. Nida-Core structural honeycomb coring is used elsewhere, though Divinycell foam coring is used around any openings such as hatches, portlights and windows to reduce the chance of water ingress. In areas such as the transom and where cleats are mounted, solid Coosa board (high-density, polyurethane panels impregnated with fibreglass fibres) is used instead of coring or backing, as it is light, won't rot and won't crush under extreme loads. The pan-type stringer grid is bonded to the hull with a super-tough fibreglass putty.
On Deck  Access is via the transom swim step and transom door. Optional port and starboard staple rails provide good security when boarding or working from the swim platform. The test boat was fitted with the standard outboard mounted on a pod extending aft under the swim platform. Trailer lights built into the transom come standard.
For a 23-footer, the cockpit is surprisingly spacious, with a folding double bench seat against the transom and plenty of storage in three lockers under the cockpit sole. There are two standard "rocket launcher" rod holders mounted on the cabin sides and two built into the transom. These and the roomy cockpit make the R-23 a well-found fishing platform. An added bonus is the optional Sunbrella cockpit sunshade that extends halfway over the cockpit. Another interesting feature is an opening glass bulkhead that hinges up on gas struts. This allows the backrest for the aft dinette seat to be flipped forward to become a handy double cockpit seat.
The side decks are narrow, but the handrails are well placed for safe passage forward. On the forward deck are the anchor locker, bow roller and optional windlass (with bow and helm controls).
A nifty stainless folding antenna/radar mast sits on top of the cabin, where there's also a stainless sport rack for storing kayaks, crab and prawn traps or whatever you wish. And of course there's Ranger's trademark faux funnel up there as well.
Interior The saloon door is glass and when one considers the glass bulkhead door and a fixed bulkhead window, it's almost like a solid wall of glass—serving to bring in light and allow for excellent visibility aft.  The cabin on the test boat was tastefully decorated with teak panelling and cabinetry, teak and ebony vinyl flooring, beige vinyl Sunbrella upholstery and gloss white fibreglass. We like that the interior will be easy to wash down and keep clean. We were also very impressed with the huge amount of light brought in by the four overhead hatches, a row of four bronze-tinted skylights above the helm area and the large bonded-glass windows. The one-piece wrap-around front windshield is a striking feature that enhances the excellent all round visibility from the helm. There's also plenty of ventilation via the opening hatches and sliding windows.
To port is the raised dinette, with room for four people. Its high-low wooden table drops down to make a single berth. The aft dinette seat base is hinged and swings forward to open up the mid-cabin berth (and electrical panel) underneath the dinette (there's also a large cutout in the dinette base for access). Most owners will likely use this as bonus storage space, but it would also be a perfect sleeping/play area for small children (but not adults).
To starboard is the galley with a Kenyon alcohol/electric (1,100 watt) single burner stovetop, sink (with cutting board top), 12-volt fridge/freezer, water tank monitor and a fair amount of under-counter storage. Across, mounted under the forward dinette seat, is a microwave. Overall, the galley is compact but nicely equipped.
Forward of the galley is the helm area. It has a large sliding window that makes it easy to lean out when docking (there's another one on the port side). The test boat was fitted with a single-lever fly-by-wire throttle/shifter control and Yamaha's new Command Link Plus LCD display. This is an excellent, customizable instrument built into the nicely upholstered console. It displays more information than you'd ever expect from an outboard. Not only does it display things like rpm and fuel consumption, but also fuel level, speed, battery voltage, engine trim and more. The standard electronics package is a Garmin GPSMAP 7610 10-inch, multi-touch multifunction unit and depth sounder (Garmin HDX radar is optional) and a VHF radio. The helm area is neat, all controls are straightforward and close at hand and the helm seat, with bolster, is comfortable.
The forward accommodation area has twin single berths and a high-low table that drops down to make a full-size V-berth. There's storage under the berths on both sides. Two overhead hatches and hull windows bring in light and open for ventilation. Immediately to port is a small sink and a round, swivelling mirror while to starboard is the manual flush head. Things are a bit tight in the head area, but Ranger has come up with some innovative tweaks to make it work better. For privacy, the head door hinges out to seal the companionway access. Next, a raised snap-on canvas "lid" can be closed from inside to seal the top opening and provide headroom below. When someone wants to shower, a curtain slides on a track to protect the rest of the V-berth from getting wet. The showerhead/sink faucet simply lifts out from the sink. When not needed, the curtain tucks into a long vinyl sleeve. It's a bit of a procedure to set up, but it does work.
Engine and Systems  The R-23 is available with a standard 200-horsepower Yamaha outboard. The F200, said to be the lightest in its class, is an in-line 2.8 litre, four cylinder, four stroke that won the National Marine Manufacturers Association's Innovation Award in the outboard motor category when first introduced in 2013.
Optional power is a 170 horsepower Volvo D3 diesel with Duoprop sterndrive. The outboard has the advantage of freeing up interior space and makes for a quieter ride. It also tilts up out of the water when not in use. In contrast, the stern drive offers a greater range and slightly better fuel economy. Because it is freshwater cooled, it has the benefit of allowing for hot water and cabin heating while the engine is hot. To accommodate the stern drive, a raised box, about two feet high and extending three feet forward of the transom is built around the engine. It can be used for seating or as a table.
An electric bow thruster is optional and it comes with its own battery. Standard 12-volt battery power is two 80-amp-hour Group 24 lead-acid house batteries and one dedicated start battery. An optional 1,500-watt inverter is available to provide 120-volt AC power.
The test boat was fitted with an optional Espar forced air diesel heater, which requires a separate diesel tank if the boat is outboard powered—a pretty well necessary option in our part of the world.
With the outboard version, hot water is only available when connected to shore power, or through a gas generator. Some owners will likely want to add a small gas generator to supplement the batteries and the inverter, especially if one wishes to have enough power to run the microwave, diesel heater, hot water heater and electric cooktop. Currently, Ranger is evaluating several potential generators to determine which works best for their application.
Underway The 200-horsepower outboard seems to be a perfect match for the R-23; not too much power and not too little. Livingston has got things just right here and the R-23 accelerates quickly with minimal bow rise. It banks beautifully into turns (helped I'm sure by the Laminar Flow Interrupters) and tracks well. Visibility forward and all around is excellent. The Yamaha outboard provides for a pretty flat fuel curve—we were averaging better than two miles per gallon at all speeds but wide open throttle (which was still an impressive 1.6 mpg). Top speed was 31.3 knots (5,500 rpm) but a normal, comfortable cruise speed would be between about 20 and 23 knots. At 23 knots and 4,400 rpm our fuel burn was 9.7 gph, which translates to 2.4 miles per gallon. All in all, this is a very economical cruiser.    
Concluding Remarks  We had a hard time finding fault with anything about the R-23. It is well built, the fit and finish is very well executed and the performance impressive. Another attractive feature is its price point (especially in U.S. dollars), which makes it an affordable entry-level pocket cruiser, great for young families. According to Ranger's Sam Bisset, about 90 percent of R-23 customers are young people with kids. But the R-23 will also appeal to serious fishermen, especially those who want to be able to trailer the boat to the hot spots. While there is technically room for five to sleep (if two are small children), the boat is particularly well-suited for a couple looking for no-fuss boating. Just jump aboard, untie the lines and take off. If sales are any indication—more than two-dozen were on order at press time—Ranger Tugs has another winner on its hands. Base price for the R-23 is US$94,937, not including freight and taxes.