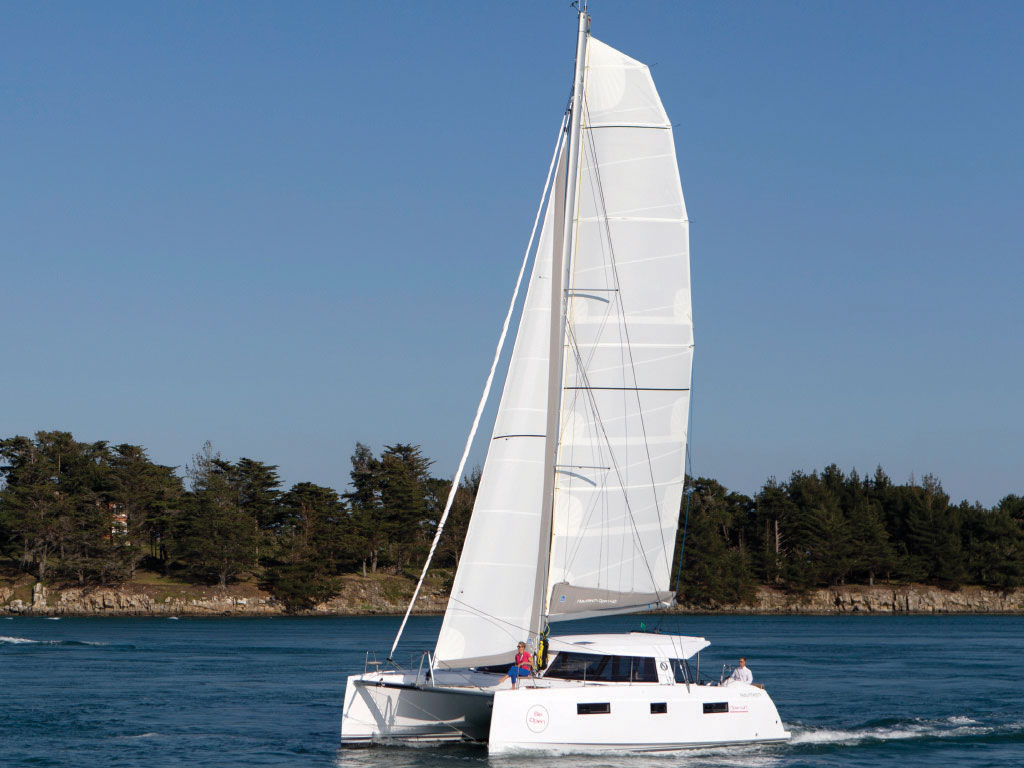 Bavaria Yachts has been building quality sailboats since the late 1970s out of its now 750,000-square-foot facility in Giebelstadt, Germany. They made their entrance into the powerboat world in 2003, and today motoryachts make up nearly 40 percent of their overall production.
Wanting to offer their loyal customers a cruising catamaran option and to expand into the charter market, Bavaria purchased the French Multihull firm, Nautitech, in 2014. This partnership combines the large German firm's streamlined construction systems and buying power with the French builder's multihull expertise, and today Bavaria Catamarans offers five multihull models, the smallest of which is the Nautitech Open 40.
Design and Construction  Created in a collaboration between Nautitech founder Bruno Voisard, naval architect Marc Lombard and Roséo Design, Bavaria Catamaran's Nautitech Open 40 certainly stands out as an attractive design in the world of cruising catamarans.
Built in Nautitech's factory in Rochefort, France, this boat has aggressive-looking reverse bows and a notable lack of a towering fly bridge, which ruins the lines on so many other cats found in its class. Its eye-high freeboard is broken up by two chines, one on the bottom near the water and a reverse chine up top, which also serve to increase interior space and reduce spray on deck in choppy seas. All of this gives the Open 40 a modern, sleek and proportionate look.
The boat is constructed from vacuum-infused, foam-cored laminate, giving it a relatively light displacement of 17,000 pounds. Like all cruising cats, the Open 40's beam is very wide at 22 feet, eight inches, comfortably taking up two regular-sized berths in the marina, so finding moorage in a city like Vancouver might prove tricky. Anyone willing to moor the boat closer to their cruising grounds will be rewarded by a huge increase in living space over a 40-foot monohull, either power or sail.
The Open designation in the boat's name refers to its unique indoor-outdoor saloon/cockpit space, which increases its warm weather appeal over its charter-fleet predecessor, the Nautitech 40. This open space is the centrepiece of the boat's design, and should be a major selling point for cruisers looking to entertain guests.
Deck and Rig  Since the boat's cockpit is fully covered by a hard dodger, those looking for a little sun and relaxation will want to make their way forward to the spacious bows, and the large trampoline strung between them. Once fitted with cushions, this wide-open foredeck is a comfortable lounging area, both while docked and underway. The downside here is that there aren't many handholds, but this is partially compensated by how flat the boat remains, even while sailing.
There are two cavernous lockers at the bow for storing headsails, cushions and docking gear, and the anchor, windlass and chain locker are located right forward of the mast in between the two hulls. The anchor has a bridle system that will keep it centred to prevent "sailing" back and forth while on the hook.
At the stern, there is room for a dinghy on davits, more lockers, and a hot/cold deck shower on the starboard transom.
The Open 40's high-fractional rig is deck-stepped and straightforward, with swept-back spreaders and
40 was how inclusive it was to everyone on board. No matter if you're in the galley preparing a meal, lounging in the cockpit or controlling the boat from the helm, everyone is included in the fun. It makes for a very social atmosphere.
Down Below  Three steps down into the port hull reveals the master suite, with a queen-sized berth aft, a settee, work desk and hanging locker in the centre compartment and a spacious head and shower up in the bow. Typical to most multihull designs, there isn't a ton of stowage space in the cabinets and under the deck (however, there is lots of storage under each berth) but it has a comfortable, airy and spacious feel.
The starboard hull contains two more cabins, with a double-sized bunk up forward and another queen-sized berth with a small hanging locker at the stern. In between the cabins are more cabinets and another head and shower, and our test boat was fitted with an optional freezer unit.
Fit and finish is modern, attractive and functional, though the materials are standard issue for the larger European builders, featuring synthetic teak floors inside, and light-coloured laminate woodwork and cabinets. The somewhat flimsy hinged door separating the companionway stairs from the port cabin seems like a bit of an afterthought compared to the sturdy doors on the heads, but it did the trick for providing privacy.
Bavaria offers two versions of the Open 40, a three-berth owners version as tested, and a four-berth version that adds an additional double berth in place of the head and shower in the port bow.
Engines and Systems  Our test boat was equipped with two upgraded Volvo 30-horsepower diesels, one in each hull, and each connected to a three-blade folding prop. The engine compartments are insulated and placed far back in the hull, so they are very quiet while underway, both on deck and inside the hulls.
Our test boat also featured ZF Marine electronic throttle controls for each helm station. A totally-worth-it $15,000 option, these controls allow you to steer the cat just like a twin screw monohull, where you leave the wheel alone and use the two throttles to steer the boat while docking. The boat comes standard with throttle controls only on the starboard side.
Water, fuel and holding tanks are located in each hull, and the test boat featured an upgraded Blue Water electrical package, and electric toilets in each head.
Underway  Heading out of the marina it was clear that this boat didn't handle like your average monohull. Thanks to a four-foot, five-inch draft, light weight and no large keel sticking down into the water, the boat didn't slow down as quickly as you'd expect, once you pull back the throttle. That said, control was fantastic with the dual electronic throttles—well beyond any conventional single-screwed sailboat—so as long as you keep things slow and steady in the marina, docking this boat should be no problem.
Once out of the marina and back to using the wheel, control remained excellent as the rudders are located aft of the propellers, which helps maintain steerage even at low speed. Setting the throttle at 1,800 rpm will give you six knots, and bumping it up to 2,400 rpm offers a comfortable cruising speed of 7.5 knots.
This boat is set up to be sailed by one person from the starboard helm. This is great for skippers who want to do it all themselves, but can be a challenge for crew who want in on the action of sailing the boat. This isn't to say that the driver is separated from the people in the cockpit, quite the contrary, but rather that the sails are only visible from the helm and there isn't a lot of room for moving elbows.
Windspeed during our boat test ranged from five to seven knots, not exactly exciting, but once we cut the engine and raised the sails it was easy to see the appeal of a sailing cat.
Upwind in five knots of breeze, tacking angles were roughly 60º to 70º true (35º to 40º apparent) with 3.5 to 4.5 knots of boat speed, though I expect the angles to improve as the wind speed increases. Any concerns over tacking the big cat were quickly dispelled, as it went right over, only dropping down to 2.3 knots through the tack. Other than having to help the jib across a bit with the sheet, and adjusting the traveller on the main, there wasn't much to do except turn the wheel.
Both the furling jib and furling gennaker can be left up together while cruising, so it's easy to furl out one or the other as needed. Downwind, subbing in the gennaker for the jib kicked the boat speed up by a half to a full knot. Down wind speeds were impressive, with us making 3.3 knots in 3.5 knots apparent and 5.7 knots true, with optimal angles of 120º to 130º.
Helm feel while sailing was light and responsive, which is also something we didn't expect in a cruising cat. Overall we found this to be a fun boat to sail, whether you're hanging out on the trampoline or steering it from the helm.
Concluding Remarks One of my few complaints about cruising cats is that some of them tend to look a little ungainly when compared to their single-hulled cousins. To my eye, Bavaria has broken free of this awkwardness and has offered the multihull market a uniquely fast-looking, attractive boat in the new Open 40.
We loved how social the boat felt with its inside-outside cockpit and saloon—no matter what you were doing it was truly a joy to be on. And while the multihull's wide beam will turn off some boaters in terms of the practicalities of mooring it, you can't beat the living space that you get in this 40-foot cat, both inside and outside.
Standard sail away price for the Nautitech Open 40 starts at USD$419,000 in Seattle, and the price as tested is USD$529,900