Moody 54 Deck Saloon
By Zuzana Prochazka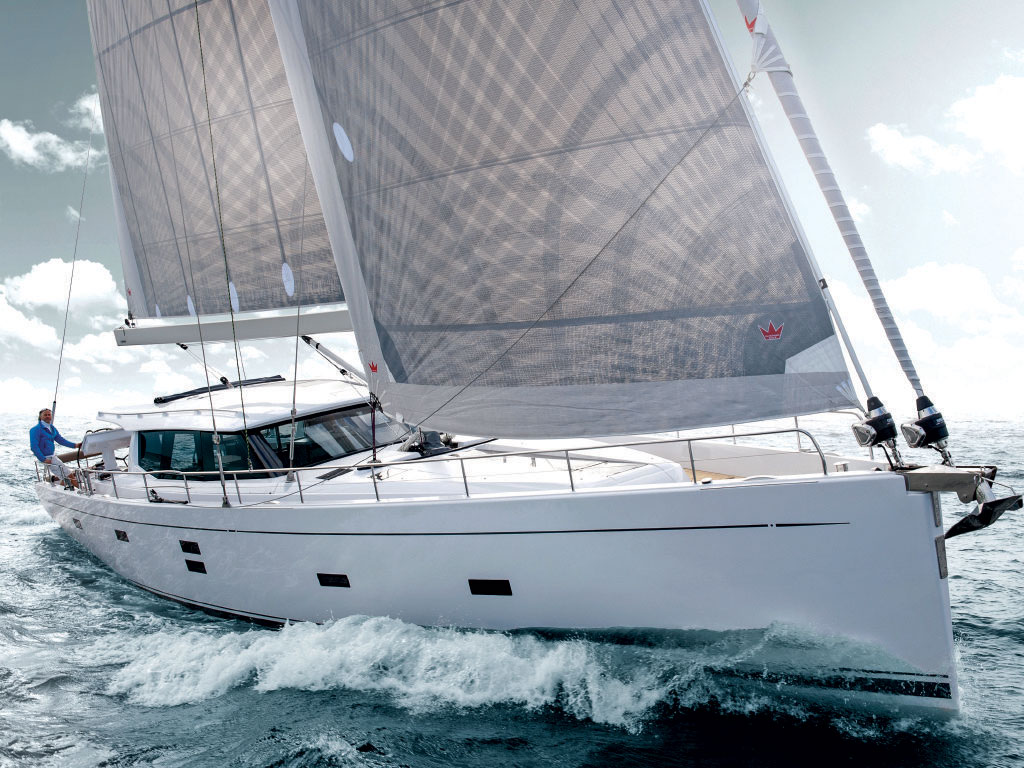 Sailing in our local waters can be challenging. It seems that at any given time there is too much or too little wind, summer temperatures are often cool and winds are fickle and hard to predict. The short sailing season is followed by a long winter that is often best escaped in favour of sunnier climes. What then, is the perfect sailboat for these challenges?
The revamped Moody 54 may be the answer as it's an all-weather sailboat with a tall stick, a powerful engine, large tankage and enough protected living space to take a small crowd on an extended voyage in perfect comfort.
On Deck Moody is owned by Hanse and the 54 DS is based on the existing Hanse 575 hull drawn by Judel/Vrolijk with the rest of the boat attributed to Bill Dixon. The resulting deck saloon design gained a high coachroof, a larger engine and 10,000 pounds, but she still manages to sail well in light winds due to Hanse's slippery hull and effectively large sail plan. The keel-stepped Selden mast supports a sail area of 1,729 square feet with a standard in-mast furling mainsail and a self-tacking jib, which is a Hanse trademark.
The profile is dominated by the wrap-around coachroof windshield and an enormous cockpit that is topped by a composite bimini. That hardtop extends from the cabinhouse back to the steering pods and has a retractable fabric sunroof in the middle. The cockpit is wide, like on a catamaran, and is shielded from the wind, sun and rain, so this boat can be sailed comfortably in very hot or very cold cruising grounds.
When docking, it's best to back into the slip because the sightlines aft are better (you can't see the bow from either of the two helms). The retractable bow thruster and optional stern thrusters make docking easy so backing isn't nearly as intimidating as expected. The hydraulic transom lowers to form the swim and boarding platform so that's the way you want to end up in a slip anyway. With the transom down, you can see into the garage that will fit a partially inflated dinghy, or fenders and toys.
From the platform, a ladder to port leads up to the main deck and twin composite console pods. Each console holds a Carbonautica wheel, a Raymarine Glass Bridge 95 MFD, full instrumentation, engine throttles, autopilot control, and  toggles for the twin electric headsail furlers. There are also sheet boxes for the lines that are led aft to the wheels. One complaint we had was that these boxes are not big enough for all the lines and under sail, if not managed carefully, there's much underfoot with all the sheets and halyards tumbling about.
Sailing performance is good and upwind sailing is a single-hander's dream since the self-tacking jib and in-mast mainsail need very little adjustment. Furling each sail can be done with toggles on the helm pods and the electric winches take care of sail trim. It's remarkably easy to manage this big boat short-handed.
Interior When Moody added the deck saloon, they created enough interior height to effectively build two stories. The saloon and galley are on the main level with the four cabins about five steps lower. (The engine room below the saloon sole is also effectively on the first floor.)
A large sliding glass and stainless steel door, reminiscent of a powerboat, takes you from the cockpit to the saloon. A window to the port side of the door opens to the cockpit creating the feeling of a single social space that you often get on a catamaran. Two layouts are available—galley-up and galley-down. Our test boat had the galley-up interior where the U-shaped kitchen is aft and to starboard. Corian countertops, twin sinks, a three-burner gas stove/oven and a small dishwasher were a mix of standard and optional equipment aboard.
With the galley up, the forward-facing nav-desk is just ahead to starboard. It comes with another MFD, engine throttles and a Raymarine autopilot so you can drive (and steer) from inside. On long passages away from hazards, you may not need to set foot on deck for hours. In the galley-down layout, the nav-desk moves aft to port and the galley moves forward and down one level. You do lose a guest cabin with this option.
The master stateroom is in the bow and is well lit and ventilated with opening hatches and a fixed skylight. There is an en suite head with a separate shower stall and lots of indirect lighting and soft surfaces that add a luxe ambiance. Two guest cabins are also in the forward area and they share a head. The fourth cabin is a double that is accessed via separate steps aft and to port of the galley. It would serve well as a cabin for professional crew, or for the kids, and it comes with two single berths and its own head that also holds the optional washer/dryer combo.
A mahogany interior is standard but our test boat had a nice redish cherry finish that contrasted well with the cream-coloured fabrics. Moody primarily uses real, hand-rubbed wood rather than veneers or engineered wood surfaces and the boat looks more solid and refined than many production boats on the market today.
Another sophisticated feature aboard is the C-Zone digital controller and bus that monitors all the onboard systems on a single screen. Digital switching is a big boat feature and takes a bit of getting used to. Fortunately, there is a 12-volt panel override for critical lights and navigation equipment in case of malfunction. Because the C-Zone panel controls just about everything including interior and exterior lighting, it would be better if the panel were placed in a more accessible place, like in the saloon or near the nav-station, rather than in the foyer down by the main stateroom.
Underway Our test sail gave us light and fluky winds of only eight to 13 knots. I wasn't sure it would be enough to move the nearly 54,000-pounds of displacement, but I'm happy to report that I was wrong. With just two of us aboard, the Moody 54 DS glided along nicely, picking up speed in the small gusts and generally behaving like a Cadillac on the water.
We did have the benefit of Elvestrom HPM (high performance membrane) laminate sails (a US$35,000 option) which are led back to two arrays of Spinlock rope clutches. Again, the boat is all electric so between the push-button winches and the above-deck electric Furlex furlers, there's really very little that is physically demanding on this vessel.
At 70 degrees apparent wind angle, we slipped along at 7.4 knots in 10 knots of breeze. When the wind increased by five knots, our speed bumped up to 9.4 knots. I would have liked to test this heavy-duty vessel in serious offshore conditions, but it's also nice to know that in light winds you won't necessarily need to rely on the iron genny. If you do, there are 138 gallons of fuel (upgradable to 248 gallons) that will give you a generous range under power.
When the design went from Hanse to Moody, auxiliary power was bumped up from a 110-horsepower to 150-horsepower Volvo-Penta D3 diesel with a straight shaft that will power the boat at over 10 knots at wide-open-throttle with a Flexifold prop.
Concluding Remarks  Multiple Moody 54s have been raced in the Sydney to Hobart race, so they're a gentleman's yacht with teeth. Push-button sailing and total cruising comfort are certainly a part of the story, but so is good performance and the ability to go from Canada to Mexico and feel right at home anywhere in between. Base price for the Moody 54DS is US$784,500. As tested, with many optional features the price was US$1,086,634.