Marlow Pilot 31
By Peter A. Robson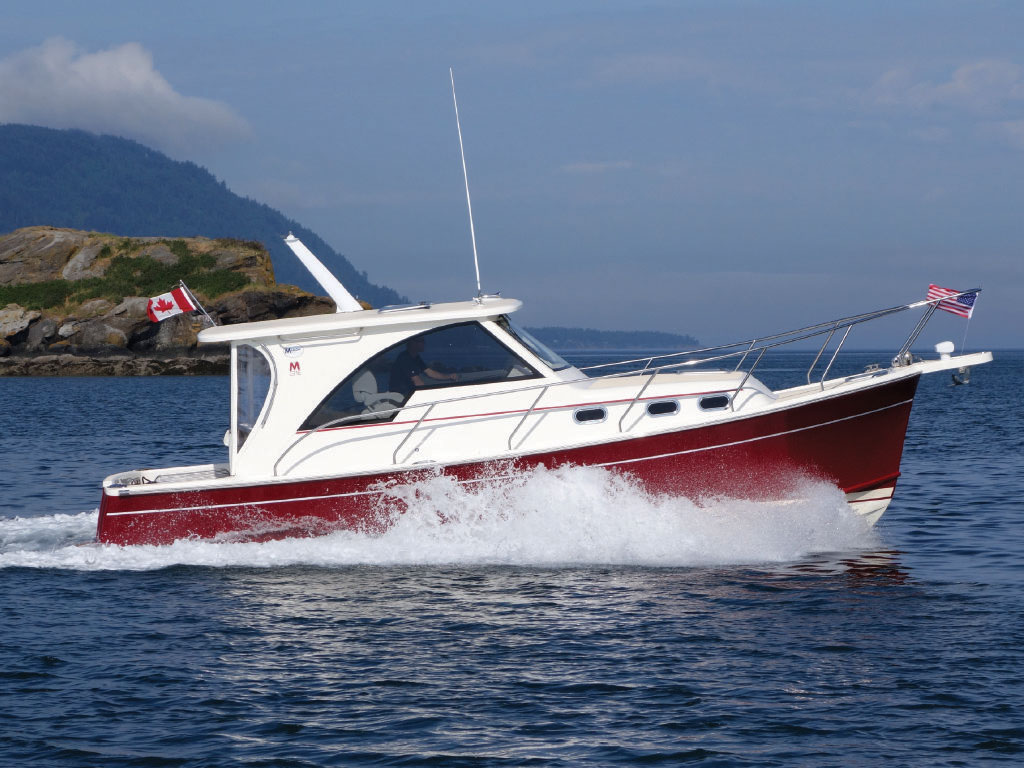 At first glance, one might wonder how practical a Florida-built trawler with an open-back would be in our cooler climate. We were certainly skeptical, but after we took the Marlow Pilot 31 for a test drive around Vancouver's English Bay, we were sold. Although it only has a single cabin, it impressed us as an ideal boat for a cruising couple or as a day boat for up to eight people.
In 2012, David Marlow took over the assets of the bankrupt Luhrs Marine Group, which owned the venerable Mainship line of express cruisers and trawlers and the well-established Hunter brand of sailboats. Since then, he's brought new and innovative ideas and construction techniques gained during his 50-plus years in the marine business and from building his Marlow Yacht brand (luxury passagemakers to 97 feet) to both Hunter and Mainship. Renamed the Marlow Pilot series, the current lineup consists of four models from 31 to 37 feet.
Design and Construction  The Marlow Pilot 31 has similarities to the Mainship 31, but the hull has been redesigned to increase its performance and make it lighter and even more fuel efficient than before. So, while the Marlow Pilot 31 has similar styling to the extremely successful and well-loved Mainship 31, it is really a much different yacht. One of the hull design changes is David Marlow's trademark Velocijet Strut Keel. This is a short keel immediately forward of the propeller (or propellers on a twin screw vessel) that the shaft runs through. It protects the propeller from damage but more importantly, it provides added stability in turns, better straight-line tracking and acts likes a fixed stabilizer to help reduce rolling. Additionally, the entry has been modified to eliminate the pounding and slamming inherent in many vessels when powering into waves at high speeds.
Visually, the most significant change to the Pilot 31 is the down-swept, bonded-glass side windows and the massive single-pane front windscreen.
When it comes to construction, Nida-Core now replaces balsa coring, which eliminates the chance of rot and provides a very strong, structural honeycomb core. Kevlar has been added where appropriate along with stitched fibreglass fabrics (as opposed to loose fibres applied with a chopper gun) and this is said to create better glass to resin ratios and a lighter overall product.
On Deck  Boarding is via a swim platform (overlaid with no-maintenance Dura-Teak) and a single transom door. There is no exposed wood at all on the exterior of the Pilot 31, which will eliminate the need to spend hours sanding, varnishing or oiling woodwork. The cockpit is open to the upper saloon/helm area, with an optional zippered curtain with windows to separate the two. This curtain will make cruising in wet or cold weather much more pleasant because the upper saloon can be heated by an optional forced air diesel heater. The cockpit area is relatively small, but as big as it needs to be for fishing or for two people to relax in folding deck chairs. A large hatch in the sole provides access to a roomy storage locker, where those deck chairs, fenders and other gear can be stored.
The side decks are accessed via port and starboard steps in the cockpit. They are almost a foot wide with sturdy stainless handrails outboard and on the cabin sides. We would like to see the cabin side rails extend further forward to allow walking forward with one hand on each rail in rough weather. However, in most conditions, the current rail configuration will prove perfectly adequate. 
The foredeck is clean and roomy, with a fibreglass anchor pulpit and remote spotlight. The test boat was fitted with the optional anchor windlass, not vital, but a useful feature. The cabin top is a stretch to reach from the side decks but it would be possible to store water toys here with a little creative figuring. There's also an antenna mast and a circular reinforced mounting pad for radar.
Upper Saloon  The interior can be broken into two areas, the raised upper saloon and what I'll call the lower saloon. The upper saloon, with six-foot, three-inches of headroom, has linear settees to port and starboard with a single aft seat between the two. There's excellent storage underneath. The single aft seat has a backrest that can be pivoted to allow the occupant to face forward or aft. The two helm seats have that same pivoting function, which offers additional versatility. There's seating for about eight people in the upper saloon, which will work well for day trips. The helm is nicely laid out with a single lever control and all the usual readouts, including digital engine/fuel monitor, and an eight-inch Garmin flatscreen chartplotter/sounder. There's even room for paper charts to be laid out to the left of the companionway. A bow thruster is standard, which is a nice option considering the single screw propulsion. Both helm seats are adjustable forward and aft and have bolsters (for stand-up steering) and folding footrests.
There are two overhead hatches with screens for ventilation and light. There's also several adjustable fan outlets (similar to those in automobiles), each powered by its own DC fan, which provide good forced-air ventilation.
For entertaining, the upper saloon was fitted with a removable table, stereo, 12-volt-DC cockpit freezer (convertible to a fridge) and icemaker.
There are two large hatches under the sole and they provide superb access to the Yanmar diesel and associated mechanical gear. Because the upper saloon is all fibreglass with removable cushions, it will be a snap to wash down after a cruise.
Lower Saloon A sliding companionway door leads below to the lower saloon where white Corian countertops, planked hardwood floors, rich Brazilian cherry woodwork and cloth cushions are all very tastefully executed. 
The galley is to port with two roomy DC fridge and/or freezer compartments under hinged portions of the countertop. There's a two-burner electric cooktop with pop up fiddles and a microwave. Both are powered by 120 volts, either when connected to shore power or from the batteries via a 1,800-watt inverter when the engine is running. There are numerous cabinets above, below and behind the counter and they offer ample food-related storage. Overall, the galley is nicely equipped with room to store provisions for two or more weeks of cruising.
The head compartment is located across from the galley and has separate toilet/shower and sink/vanity areas that can be divided by a curtain. For a 31-footer, there's ample room here and good dry storage under the vanity's Corian countertop.
There's a cozy settee forward of the galley, and across from that is a cedar-lined hanging locker with a set of drawers below. A queen V-berth—the only berth on the boat—takes up the rest of the lower saloon and it has a removable infill cushion. There's even more storage under the berth as well as access to the chain locker. The assorted shelves and nooks all have proper fiddles to protect gear from sliding out. Overhead are two opening hatches and there are six well-positioned opening portlights to provide light and ventilation. The lower saloon is certainly a very adequate and comfortable space for a couple. It's also really tastefully done and, as with the rest of the yacht, the fit and finish throughout is excellent. 
Engine and Systems  The test boat was fitted with a single 260 horsepower Yanmar 6BY3 shaft drive diesel. However, 220 and 320 horsepower Yanmars are also available. Trim tabs are standard. In addition to the standard bow thruster, a stern thruster is an option. There's also a five-gallon water heater. The water is heated either by the engine when running or by shore power.
House battery power is provided through four six-volt, 220-amp hour AGM batteries. Starting power is from a Group 31 deep cycle AGM battery and the thruster has a dedicated Group 27 AGM battery. All told, the battery capacity should be more than adequate under typical cruising conditions. However, because the stove and microwave draw a fair bit of electricity, owners will probably want shore power or to have the engine running (to power the batteries/inverter) if they are doing any serious cooking. The other major power draw is the refrigeration units. Fortunately, the included battery monitor will help owners keep track of power usage.
An optional 4 kW generator would help, but isn't really necessary if owners are careful with their power management. Perhaps the best option for extended cruisers, those who like to anchor out for days at a time, would be to add some solar panels on top of the cabin to keep the batteries topped up.
Underway With a single engine and bow thruster, it's easy to get in or out of pretty well any berth. The Pilot 31 accelerated quickly with plenty of power. It tracked well in a straight line and carved nicely into turns (perhaps helped by the keel strut) and didn't pound when we crossed our wake. There was no apparent cavitation or slipping while accelerating or during sharp turns. 
Without a solid bulkhead in the upper saloon, one would expect a lot of engine noise, but it was possible to have a normal conversation at all speeds.
Fuel economy proved excellent. At a sedate eight knots (2,050 rpm), we were sipping 2.8 gallons an hour, which translates to a very impressive 2.8 miles per gallon. At a fast cruise of 14.3 knots (3,270 rpm), our fuel burn was 9.7 gallons an hour, which was still impressive at almost 1.5 miles per gallon. At wide open throttle (3,860 rpm) we were making 19 knots and still getting about 1.3 miles per gallon. These numbers show that the Pilot 31 will be extremely economical to run. The smaller 220 horsepower Yanmar might get slightly better mileage, but we felt the 260 horsepower Yanmar was a perfect fit for the Pilot 31 when considering fuel economy, acceleration and speed.
The only downside to performance was that above about 15 knots, visibility over the bow was poor due to the increased bow rise, and the trim tabs didn't reduce it. This isn't a game changer, as most owners will cruise at less than 15 knots to conserve fuel, but something to consider when travelling above 15 knots in log-strewn waters.
Concluding Remarks  We think the Marlow Pilot 31 is a great choice for a cruising couple or as a day boat for friends and family. There's plenty of space for entertaining and storage. The single queen berth, well-equipped head and galley will make for really comfortable cruising for a couple. Except as noted, the performance was impressive, fuel economy excellent and the fit and finish inside and out was surprisingly well executed. If we were looking for a yacht of this size suitable for a couple, we'd be certain to take a very close look at the Marlow Pilot 31. Price as tested and equipped (with numerous options) is US$289,549.