Marlow Hunter 47
By Sven Donaldson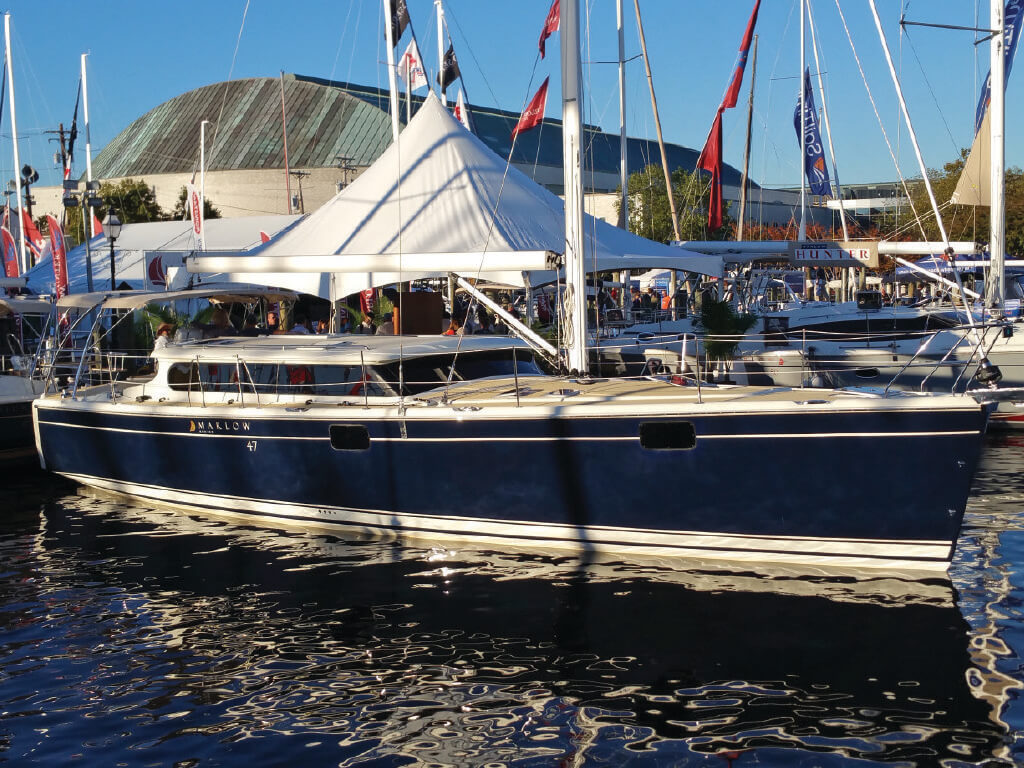 Since purchasing Hunter Yachts in 2012, new owner David Marlow has systematically put his own unique stamp on the Florida-based yard and the sailboats it produces. The company now has three distinctive new models—the Marlow Hunter 40, 37 and 31—in addition to the pre-existing Hunter line-up. Now they're being joined by a fourth that will garner even more attention.
The new Marlow Hunter 47 is similar in size to the current MH-50 centre cockpit and aft cockpit models, but there's no question that it's targeting a more exalted market niche. The basic concept is what I'd call a classic deck salon arrangement that situates the "great cabin" and galley in an elevated central space beneath a tall, traditional-looking coach house. Overhanging "eyebrows" shield the wrap-around windows, and the clean, flat cabin top serves as an excellent lounging area. Because the main cabin sole is raised, it's only three steps down from the cockpit, so moving between the two principle social areas is comparatively easy.
Further forward and another two steps down there are three double berth cabins and two heads, all accessed via a central passageway. Instead of more sleeping cabins, space beneath the cockpit is devoted to stowage and a dedicated dinghy garage (the latter rarely attempted in yachts under 55 feet).
This time-tested deck saloon/pilothouse arrangement is an outstanding solution for a 50-foot cruiser because it provides spectacular visbility (including both forward and aft) from all interior social spaces; and the bulk of the heavy stuff—engine, tanks, batteries, and auxiliary equipment—can be positioned low and amidships beneath the raised cabin sole.  As a result, the MH-47 gains stability and a more comfortable motion thanks to a low pitching moment. This will be a powerful yacht with a good turn of speed, fully competent for serious ocean passages.
Not only does the new MH-47 feature a proven, traditional layout, but the styling too establishes a noticeably retro character. From the radiused corners of the trunk cabin windows to small details like the embossed hinges on some of the floor sections, this yacht presents itself as a deliberate alternative to the spare, ultra-modern look of many contemporary European designs. There's quite a lot of solid timber visible below including "real" floorboards, wainscoting, and plenty of nice wood furniture.     
In most other respects, however, the MH-47 is a thoroughly modern yacht starting with the basic construction: predominantly Nida-Core sandwich using stitched rovings, vinylester and premium gelcoat, plus substantial Kevlar reinforcement in key areas. The single wheel might seem like an oddity in an era when twin wheel steering is becoming the norm for boats as small as 32 feet, but it makes good sense because it turns out that the steering pedestal for the new 47 is a unique hydraulic canting unit that can swing laterally through an arc of about 90 degrees.   
The reason most yachts under 55 feet don't attempt to incorporate a dinghy garage is simple enough—even with a wide, modern stern there isn't space enough back there for both a decent-sized inflatable and those ubiquitous aft cabins.  But with no sleeping accommodations aft, the MH-47 gets a huge garage—10 x 13 feet—enough for both a RIB and a kayak or two, and maybe some paddle boards too.
The new MH-47 is quite novel both in design and execution—not at all what one might ordinarily expect from a mass production builder. On the other hand, the Hunter legacy is one of innovation, so it's not entirely surprising to see another unusual yacht emerge from this quarter. This particular Marlow Hunter won't be a mass-market boat, nor is it intended to be. However, for the right customer, it could be the perfect fit.