Leopard 48
By Sven Donaldson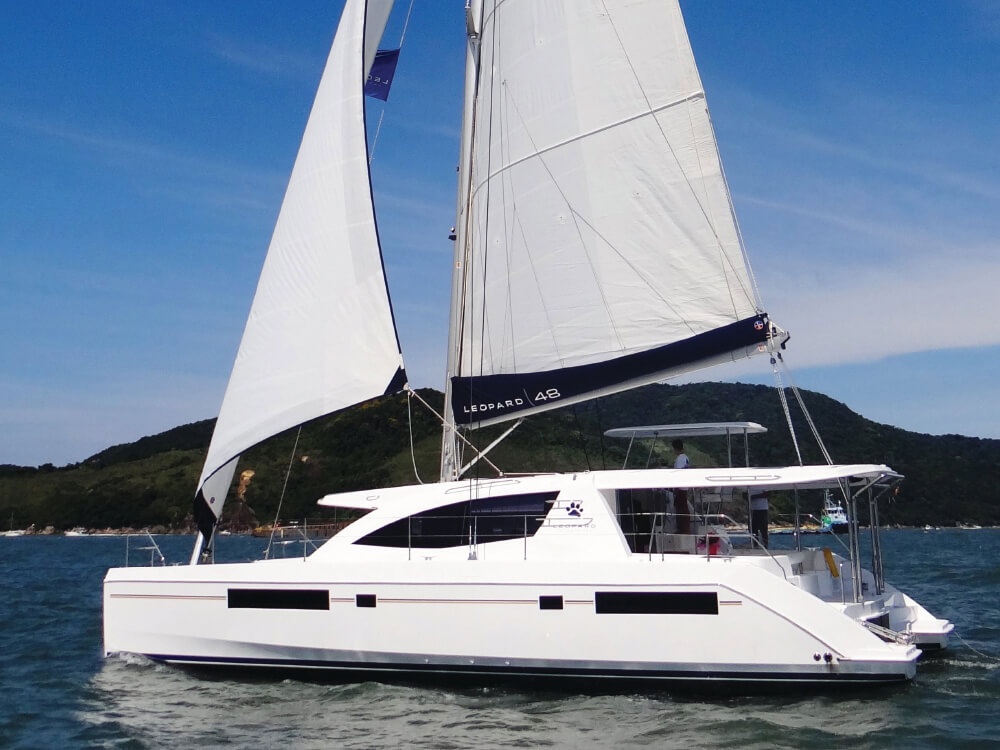 South Africa's preeminent pleasure boat builder—Robertson and Caine—has launched more than 1,000 big catamarans since 1991 and in recent years their pace has quickened. Since 1995, the yard has enjoyed close ties with Tui Marine—the world's largest charter operator through its Moorings and Sunsail fleets. Many R&C catamarans have been designated as Moorings models (Moorings 39, for example), but the yard also offers virtually identical boats under its own Leopard brand.
So while many Leopards continue to be sold predominantly for charter work, the line has progressively gained favour among private owners. Thanks to electric winches and furling, today's big cruising cats have emerged as a compelling alternative to trawler-style motor yachts. Aging sailors can still enjoy riding the wind, but aboard an ultra-spacious, stable platform that strongly resists heeling beyond a few degrees. Expansive accommodations, shallow draft and virtually no tendency to roll at anchor are other key virtues that contribute to the runaway popularity of modern cruising catamarans.
Robertson and Caine currently offers four sailing cats at 40, 44, 48 and 58 feet, as well as 39 and 51-foot power cat models. From time to time, the yard also turns out high-tech race boats, and is well-versed in advanced composite technology.
Design and Construction  For their current line, Robertson and Caine have turned to a design office with South African roots. Alexander Simonis and Marteen Voogt are now based primarily in Holland, but they first came to prominence as South African naval architects, and they continue to operate a busy design office in Capetown. For the R&C catamarans, they devised an unusual yet highly functional twin cockpit concept with a large cockpit in the usual location aft of the bridge deck saloon, but also a second smaller cockpit positioned ahead of the saloon.
In contrast to the decidedly performance-oriented catamarans featured in last month's issue of Pacific Yachting, the Leopard 48 reviewed here is clearly biased more toward comfort than speed. That said, the twin hulls each have a length-to-beam ratio of approximately 10:1—slender enough to avoid the worst of the wave-making drag that restrains most wider boats of similar displacement from exceeding theoretical hull speed. Above the waterline, the hull sides flare outward to create more space for accommodations and ensure generous reserve buoyancy.
With a light ship displacement of 17 metric tons and an ability of safely carry an additional 5.7 tons in payload, the Leopard is certainly no lightweight, but its relatively narrow hulls enable it to achieve very respectable cruising speeds with surprising ease. One of the main reasons why the Leopard 48 weighs so much is the sheer acreage of fibreglass required to build a vessel of this sort. Besides the hulls themselves, there's a massive bridge deck structure complete with extended upper deck that overhangs both the forward and aft cockpits. In fact, the builders have done a very creditable job of controlling structural weight by using vacuum consolidated, balsa sandwich construction for the great majority of panels. The low-aspect keels are molded extensions of the hulls themselves, and are filled with closed cell foam. Naturally, no ballast is required thanks to the inherent stability of the catamaran configuration.
Poking around in hidden spaces aboard the Leopard 48, I was impressed by the tidy glasswork and overall quality of construction—definitely above average for a series-built sailboat in this day and age. There's no question this boat would be up to the demands of extended offshore travel, and indeed a great many Leopards have sailed across oceans—either during initial delivery or in the hands of adventuresome owners.
Low bridge deck clearance (resulting in wave-slap issues) was a criticism directed toward some earlier catamarans produced by R&C. But it likely won't prove a problem on the Leopard 48, thanks to a relatively generous bridge deck height of 0.97 metres in light ship trim.
Exterior  Moving fore and aft on the Leopard is exceptionally easy thanks to a choice between wide side deck walkways and an alternative pathway through the central saloon via the rear multi-panel sliding door and the storm-proof forward door that opens into the forward cockpit. In the unlikely event that the forward cockpit is flooded by a breaking wave, large scuppers will rapidly drain it.
Thanks to two full-height, sliding glass panels, the covered aft cockpit becomes an extension of the saloon in settled weather. Indeed, because the test boat was equipped with full canvas enclosures for both cockpits (a dealer-installed option), these exterior areas become "interior"
in pretty much any weather.
Control central for the Leopard 48 is an elevated bridge on the starboard side—a configuration that's become very popular in realm of cruising catamarans. All winches, control line cam locks, engine controls, and of course, the wheel itself can be easily reached without leaving the helm seat. With the bridge offset to starboard, port side landings might get a bit tricky at times, but thanks to twin-engine manoeuverability, they shouldn't prove unmanageable.
Systems The Leopard's two Yanmar sail drive diesels are located, in typical catamaran fashion, at the very back of the hulls, isolated from the accommodations by a full height bulkhead. The compartment housing each diesel is easily spacious enough to climb inside with plenty of space left over for installing after-market equipment.
Because the engine spaces are completely sealed and the sail drive units feature soft, vibration-damping mounts, the Leopard 48 is remarkably quiet under power. Cruising with both engines turning 2,200 rpm (typical cruising revs) for a boatspeed of 8.3 knots, I measured just 64 dBA in the main saloon. Wide open throttle delivered 2,800 rpm and 8.9 knots boatspeed, but still only 66 dBA.
As a final test, we shut down one engine while running the other at 2,200 rpm. The result? 7.1 knots boatspeed and 61 dBA—impressive considering fuel consumption and engine wear had both been cut by half. It should be pointed out that the test boat is equipped with Max-Prop feathering propellers which create much less resistance when stationary than fixed, three-bladed props. And with two props in the water instead of one, folding or feathering props offer even greater performance benefits for cruising cats than they do for most monohulls.
In addition to twin propulsion engines, the test boat featured a diesel gen-set, and all the usual modern conveniences including a large fridge/freezer; pressurized hot/cold water piped to two heads, galley and stern platforms; extensive lighting; cabin and cockpit heat; plus much more. As one might expect from a yard with extensive experience building yachts for charter work, all systems feature quality components, tidy assembly work and easy accessibility. Considering its complexity, this should be an easy boat to maintain (in part thanks to a remarkably comprehensive owner's manual).
Interior  Like most contemporary cruising catamarans, the Leopard 48 utilizes the bridge deck area for communal living—food preparation, entertainment and socializing. Space within the hulls is devoted to sleeping cabins and heads. The 48 offers a choice between four and three cabin arrangements. The first is better suited to charter work, while the second meets the needs of owners wanting extra private space for extended periods of onboard living.
For the most part, the galley of the 48 is positioned toward the back of the main saloon area on the port side, although the combination fridge/freezer is further to starboard and several steps away. Some cooks might find this layout to be a trifle inconvenient, but in other respects the galley is first rate with plenty of stowage, sufficient counters pace, LPG stove, oven and a built-in microwave.
Toward the front of the saloon to port is a forward-facing nav desk and electrical control centre. It makes an excellent multi-purpose workspace, and many owners will like to use it as an onboard office.
To date, the majority of catamarans by Robertson and Caine have featured clear-finished wood furnishing in teak or cherry. The test boat, however, offers a bleached oak decor, which will certainly show well in the often-gloomy northwest. Of course, abundant natural light from the many large windows is a big help as well. All in all, this is a wonderfully versatile boat, well suited to either daysailing with a crowd of friends or long-term liveaboard use.

Sailing  Wind conditions were less than inspiring on the day I test sailed the Leopard 48—ranging from a maximum of perhaps six knots all the way down to dead calm. Certainly not the sort of conditions that would favour this boat, yet in an odd sort of way, it produced some gratifying results. For starters, despite the Leopard's substantial weight, it responded nicely to small increments in pressure. Close reaching with a true wind of 6.5 knots (best of the day) brought boatspeed up as high as 4.3 knots—clear evidence that the narrow catamaran hulls don't need brute force to deliver respectable speeds.
Equally impressive was the boat's tacking ability—quite literally a sticking point for quite a few cruising catamarans. Even with just three knots boatspeed going in, the Leopard 48 had absolutely no problem passing through the eye of the wind. But even when blessed with more breeze, don't expect a cruising cat like this Leopard to point like a deep keel monohull. With those stubby keels and an abundance of superstructure windage it's simply not in the cards. On the other hand, given a brisk 15 to 20 knots and a wind angle at least 60 degrees off the bow, this boat clearly has the potential for double-digit speeds.
The Leopard's twin rudders are controlled by a single, rather distant wheel, so don't expect great sensitivity or appreciable rudder feedback. In all likelihood, this is a boat that will be driven by autopilot more often than not. Of course like any multihull, it should not be left to its own devices in blustery
conditions. 
Concluding Remarks  The styling of the Leopard 48 is distinctive (to say the least), but considering just how much living space has been packed aboard a 48 x 25-foot platform, it's fair to say that designers Simonis and Voogt have done a very creditable job in this respect. Multihull sailboats are more difficult to build than monohulls, and more expensive to deliver. As a result they almost always cost more for a given length.
At the time of writing, the price for a well equipped, ready to cruise Leopard 48 delivered to B.C. is $789,000, excluding tax and duty (duty is only five percent for South African-built boats). Without question a serious sum, but considering the number of similar-sized yachts that Robertson and Caine has delivered in recent years, it's obvious that buyers see good value in them.