Jeanneau 54
By Sven Donaldson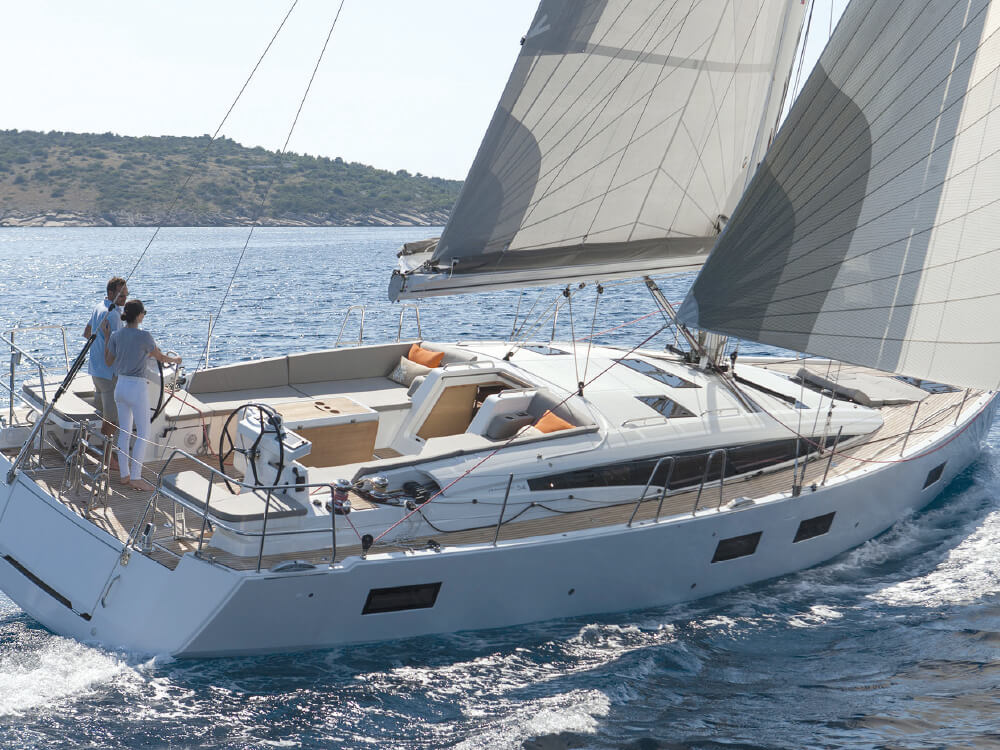 Here on the west coast we've become very familiar with Jeanneau's popular Sun Odyssey cruisers and deck saloon models, but not with the company's larger "Yacht" line. This new Jeanneau series was launched in 2009 with the debut of the dramatic 57 and 53 models designed by Phillipe Briand with external styling by Vittorio Garroni. 
Six years later, the Jeanneau 57 remains in the line-up, but has lately surrendered its line-leading status to a remarkable new 64-foot flagship—again designed by Briand, but now in collaboration with renowned superyacht designer Andrew Winch. The new 54 is very much the junior sibling of the 64 with a few features and options necessarily deleted due to smaller size, but some unique tricks all its own. The 64 has proven remarkably successful—about 20 sold within the first year—so prospects for the even more affordable 54 are certainly bright.
Externally, the new 54 bears a close resemblance to the 64 with numerous square-cut hull windows and skylights that strike a contrast with the more streamlined contours of cabin and coamings. It's a distinctive, ultra-modern look that's clearly attracting buyers. The 54's cockpit is enormous—close to 18 feet long and takes full advantage of a 16-foot beam. All sailing controls lead below decks to the "working zone" aft while the forward cockpit serves as an expansive lounging and socializing area extending forward past the companionway. As for the mid-cockpit area, there's an outsized table that seats six and doubles as the CE-required life raft locker.
Instead of a simple hinged transom grid, the Jeanneau 54 has an ingenious arrangement that converts a large expanse of cockpit sole between the twin wheels into a split level "bathing terrace." Other novel features include a recessed foredeck sun lounge, and retractable dinghy davits that tuck away when not in use.
The Jeanneau 54 is built using much the same methods as the smaller Sun Odyssey boats: a PRISMA-process, resin-injected deck, bonded internal structural grid, and an interior finished in a combination of Alpi "engineered" woodwork, laminates, and soft-touch vinyl.  The interior makes no attempt to mime a hand-crafted traditional yacht interior, but thanks to the deft touch of Andrew Winch designs, the results are very smart indeed.
As for layouts, the 54 offers a smorgasbord of alternatives ranging from two to six cabins, either aft or midships galley, and an array of head options. Buyers can essentially optimize this boat for coastal cruising with friends/family, world-wide voyaging, full-time charter work, or a combination of these roles.
In common with a growing number of contemporary designs, the 54's mast is stepped far aft, establishing a very large fore-triangle that can accommodate an array of genoas, staysails and code zeros. Similarly—depending on the intended use of the boat— buyers can chose between either a 75 horsepower sail drive diesel or a husky 110 horsepower shaft drive auxiliary. It all adds up to a remarkable 54-footer that stands up well against the prestige brands and semi-custom yachts, but at roughly half the price.