Hanse 315
By Zuzana Prochazka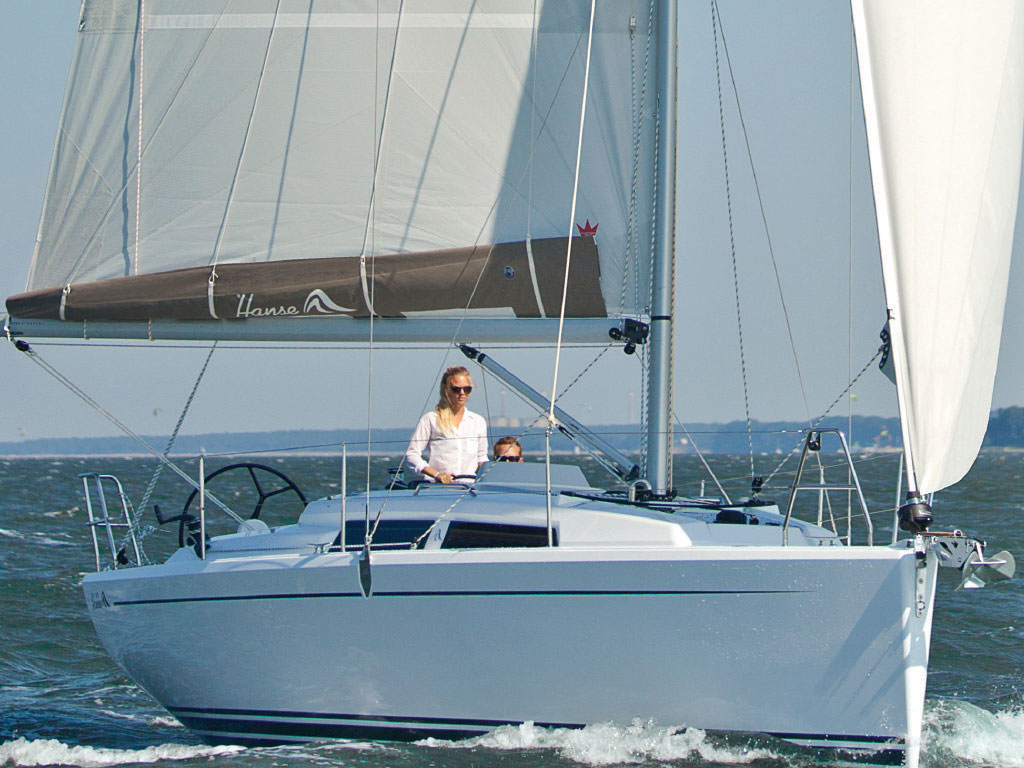 The most recent entry-level model from German builder Hanse is the 315, which combines easy sailing with the necessities for a long weekend away from the dock. A neat little package, the 315 packs a lot of ingenuity into a small platform that will appeal to a broad spectrum of sailors; those looking to club race as well as anyone seeking a small cruiser with lots of weekend potential. It seems the Hanse 315 has something for everyone.
Under Sail  Our test boat was equipped with the 18-horsepower Volvo that pushed the boat at 6.9 knots and 3,000 rpm as we motored out onto Chesapeake Bay. The 315 does not need much for auxiliary power and small engines are more economical.
The winds that day were light and frustrating (sound familiar?), not what you're looking for when testing a boat, but the 315 didn't mind the light conditions a bit as she sailed herself in small puffs without rounding up or wandering downwind. The 315 stayed in the groove and kept her speed at 5.8 knots in 10 knots of breeze at 60 degrees apparent. As we cracked off, the speed dipped to 5.3 knots at 120 degrees.
Our tacks were an easy turn of the wheel with no adjustment to either sail, thanks to the self-tacking jib. Gybing wasn't much more difficult. We pulled in the main quickly to control the boom, let the wind pass over the transom and then settled on the other side without a break in the conversation.
Rigging  Elvstrom FCL (Fast Cruising Laminate) sails are carried on the deck-stepped 9/10 rig with its Selden tapered mast and double aft-swept spreaders. Hanse rigs are easy to manage short-handed so you can go out solo for a bit of fun in the afternoon and never feel overpowered. The 315 comes with a self-tacking 98 percent jib on a Furlex above-deck furler and a curved track just ahead of the mast. A 105 percent jib with side deck tracks is optional but it adds cost and cuts down on convenience, defeating the beauty of the simple sail plan.
On Deck  As with all the models in the line, the 315 has a manual drop down transom that forms a swim platform or an easy boarding point from the dock or dinghy. A chartplotter and instruments from B&G are at the port wheel and the Lewmar primary winches are easy to reach from both helms. Two winches and numerous rope clutches manage halyards and single-line reefing on the cabintop.
Forward, there is an opening anchor locker, which holds and protects the optional electric windlass, and a single bow roller. With a rope/chain rode and shallow water, sailors might be tempted to haul the anchor line by hand but an electric windlass will be a nice addition for our local waters. The anchor roller is set well forward of the blunt bow to reduce any chances of dinging the stem when raising or lowering the anchor.
Hatches are flush so there are no toe stubbers and the cleats are big for this class of boat, a feature I always appreciate.
Twin wheels facilitate movement around the cockpit and back and forth between the companionway and the swim platform. In the standard configuration, the 315 comes with a tiller, which racers may prefer, but only about 10 percent of buyers are opting for this. Cruisers on the other hand, will appreciate the two wheels by Jefa Steering. You can also upgrade to carbon wheels because they fit well in the hand, are never too hot or cold and add a serious upscale look as well.
A teak table separates the two cockpit settees and it makes a fantastic handhold with a large stainless rail all around. Aft, the mainsheet and traveller are in the cockpit sole, easily reachable from either helm. A great idea, well executed.
Teak is standard on the cockpit seats and optional on the sole and it helps to break the vast expanse of white as it adds a bit of richness. Teak decks, which our test boat did not have, are also optional.
Interior  It takes a bit of creativity to find ways to fit two cabins, a head, galley and a basic saloon into 31 feet and here is where Hanse really shines. They pack in a lot of amenities. There is really only one layout available with minor adjustments. A few small tweaks can be done in the forward cabin, where you can have a traditional V-berth that takes up the entire cabin or a smaller V-berth with a seat to port and a locker to starboard. This space is perfect for a single adult or two kids.
When there are only occasional guests, the bulkhead and door between the saloon and the forward cabin may be eliminated to make the boat feel larger below. With the bulkhead in place, there is privacy. Two shelves on both port and starboard can be opened up to form single berths. It's an interesting concept so it's important to know exactly how you will be using the boat to get the most of its modularity.
The master stateroom is aft with a large bed and standing headroom at a narrow door where there is space to get dressed. To port is a small, dedicated locker accessible from the above cockpit seat. It's a tiny garage that will fit a barbecue, lines, water toys or what-have-you.
In the middle, two straight settees abut the saloon table with the port side also providing a seat for the small,
aft-facing nav-station, an unusual but useful feature on a boat of this size. Most sailors will navigate via chartplotter in the cockpit but an interior desk helps keep things organized.
The headroom is good at six feet, two inches, especially around the galley and nav-station since the cabin sole has been lowered. The L-shaped galley to starboard has a single circular sink near the centreline, Waeco top-loading refrigeration and a two-burner Eno stove/oven combination. Black quartz countertops with integrated fiddles are a nice touch although prep space is limited, especially if two are working simultaneously. Overall, everything a chef would need is at hand for creative culinary adventures aboard.
While there is no separate shower stall, the head is large and includes a sink, a manual head and good room for dressing or showering. Between the galley and the head is the companionway with four steps that are easy to navigate and will work well for kids, pets or anyone that doesn't like a steep climb when moving about.
The standard interior finish is satin mahogany with optional choices of light Italian oak or American cherry and there are numerous fabrics to personalize the vessel to one's tastes. In a pinch, five could be accommodated overnight but really, this is a boat for two adults, with an occasional guest or a couple of young kids.
Concluding Remarks  The Hanse 315 replaces the older 325. She is a product of the Judel/Vrojilk design team that has been securing podium finishes for decades. The construction is a vacuum-bagged cored epoxy sandwich with a built-in lip at the gunnel for better footing when heeling. The L-shaped keel comes in six feet, one inch or four feet, five inch drafts for better upwind performance or skinny water sailing, respectively.
Couples looking to downsize will find the 315 comfortable, cheaper to berth and a breeze to sail. On the other end of the spectrum, sailors looking to get into the sport will enjoy the room to live-aboard with kids for days at a time without feeling crowded. Racers will find everything to sharpen their speed skills and perform well in club events as well. And finally, everyone will like the price because the 315 base is just US$98,000 and US$150,000 as tested. Your ideal combination will likely fall somewhere in between but she is truly a boat that offers much for many.