Gunboat G4 and Maine Cat 38
By Sven Donaldson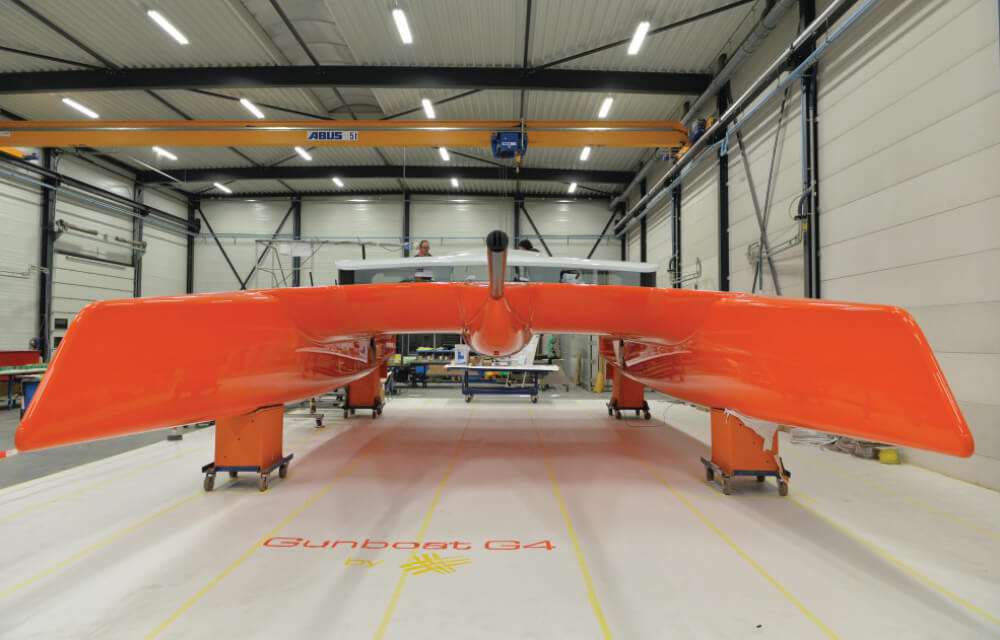 The vast majority of contemporary cruising catamarans are biased more toward comfort than speed. Creating a truly fast multihull—one that can consistently deliver speeds of 15 knots plus—necessitates exceptionally lightweight (i.e. expensive) construction coupled with a relatively ruthless curtailment of added weight (i.e. cruising luxuries). Very fast multihulls also tend to require outsized, high-powered rigs, which can become overpowered in a flash unless managed with keen attention and considerable skill.
That said, there's a niche market for "no-compromise" cruising cats that aim to combine the comforts of a cruising "condomaran" with some serious speed potential. For the most part, these are very large cats—typically at least 60 feet—constructed using advanced materials and technology in an effort to pare away every surplus pound.
French builder Catana was among the first to advance this formula, but in the past 15 years we have seen another brand—Gunboat—emerge as a global leader in this exalted field. When it comes to price, just consider the old engineering adage: light, strong and inexpensive—you can only pick two out of three. Considering that the fast cat formula demands being both very light and extraordinarily strong, inexpensive is totally out of the running. Even some of the first Gunboats, now more than a decade old, are priced well up in the seven-figure zone; and the larger Catana models are similarly dear.
Now, however, we're starting to see a similar design criteria applied to smaller, and decidedly more affordable catamarans—sophisticated multihulls that aim to blend high speed sailing performance with respectable cruising amenities. In many respects, the two examples discussed here are utterly different from one another, but ultimately both can be viewed as modern embodiments of the time-honoured racer/cruiser philosophy. Buy either one, handle it competently, and there won't be many times that another boat makes a quicker coastal passage or gets to the finish line sooner. But at the same time, you'll be able to enjoy a spacious bunk, cook a good meal and socialize in comfort when at dock or on the hook.
GUNBOAT G4
The new baby of the Gunboat line is a radical departure from earlier Gunboat models. Indeed, it's dramatically different from pretty much every other production sailboat on the planet. The ambitious brief for this 40-foot design encompasses first-to-finish speed (to be achieved with the aid of hydrofoil support); easy, safe sailing characteristics; plus sufficient amenities to house family or racing crew in reasonable comfort on weekend trips.
For a bit of background, Gunboat is the brainchild of Peter Johnstone whose father Rod co-founded the iconic J/Boat brand. After decades of racing, Peter turned his affections to offshore voyaging, and ultimately decided that a big, ultra-light catamaran would make the perfect long-distance cruising boat.
Since 2001, Gunboat has launched dozens of carbon fibre cats ranging from 48 to 90 feet. There are two models in current production—the Gunboat 55 and 60—both designed by Nigel Irens and built in North Carolina and China respectively. In every case, the sub-contractors handling Gunboat's production have achieved impeccable results and these spectacular yachts are true masterpieces of high-tech boatbuilding.
For the new G4, Peter Johnstone and his team turned to a Dutch design firm, DNA, that came to prominence for world-dominating A-Class catamaran designs. Primary construction is also taking place in the Netherlands at the ultra-modern facilities of Holland Composites—a major firm that handles a wide variety of marine, architectural and transportation projects.
The G4 is vacuum molded using epoxy pre-preg carbon skins on Nomex honeycomb coring. This construction is very similar to that of advanced composite aircraft—feather light, extremely strong and yes, expensive. An impressive series of photographs showing details of hull number one in production can be viewed at www.hollandcomposites.nl/projecten/projecten/gunboat-g4/.
Light displacement for the 40 x 22 foot G4 is only 2.7 metric tonnes (5,950 pounds)—about the same as a typical monohull sailboat in the 26 to 28-foot range. Designed payload capacity is a generous 1,600 kg (3,530 pounds), although performance will doubtlessly drop when the G4 is loaded to the max.
To combine six-foot standing headroom with a low cabin profile, the G4 features a rounded-longitudinal spine, reminiscent of the central hull of a trimaran, but suspended clear of the water. This spine also stiffens the platform to withstand the high loads imposed by an extremely powerful rig. SA/D is 55.1—outlandishly high by any ordinary standards; and even when calculated at full load displacement, it's still a whopping 40.4.
Renderings of the G4 have depicted two different foil configurations, and at this point, it's uncertain which will be used aboard the first few boats. The "conservative" version has uniformly radiused C-foils that curve inward beneath the main hull when extended. This arrangement allows the main foils to retract fully when desired, while still generating vertical lift as well as lateral resistance.
The "more advanced" version features J-shaped main foils with conspicuously up-turned tips—a configuration developed during the last America's Cup. J-foils hold the promise of automatic altitude control while foiling, because the up-turned tip will begin to ventilate (and thus degrade lift) whenever it climbs too close to the surface.
Either the C-foil or the J-foil arrangement can provide enough lift to significantly reduce displacement when at speed; and can also help prevent the leeward bow from submerging dangerously when hard pressed in a sudden gust. The J-foils, used in combination with T-foil rudders, offer the tantalizing possibility of sailing in the fully foil-borne mode. However, whether the G4 can actually achieve this feat remains to be seen.
When it comes to full foiling, a degree of skepticism may well be warranted because the G4 does carry a significant cruising load: two queen-sized berths plus two singles, a complete galley module in the centre of the cockpit, electric auxiliary propulsion and a toilet. The saloon design allows a sizable crowd to sit comfortably on opposite sides of a central table, and the massive cockpit is big enough for a full-blown dock party.
One particularly innovative feature incorporated in the G4 is a pedal-operated, hydraulic mainsheet system that releases at the touch of a button. The ability to instantly de-power is critical for high performance multihulls, because sail power escalates geometrically with even small increases in apparent wind speed.
So how much does all this high-tech wizardry cost? Likely starting price will be around US$700,000, so it should now be possible to own a Gunboat for less than $1 million Canadian (although there might not be much change left over…)
The first G4 is slated to make its racing debut at the 2015 Antigua Race week in late April. It's a tiny yacht by Antigua standards, but there's little doubt it will be among the star attractions.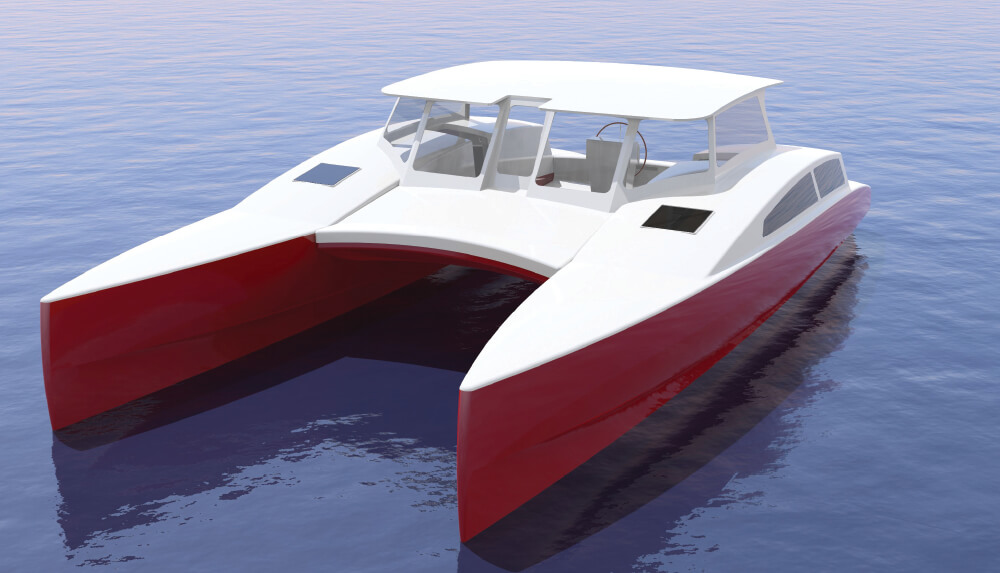 MAINE CAT 38
Although decidedly down-to-earth when compared to the G4, the new Maine Cat 38 is a great deal more performance-oriented than the average cruising cat. Maine Cat's founder and CEO Dick Vermeulen has a background in engineering, and has been building catamarans to his own design since 1996. An earlier Maine Cat 38 (2002) quickly evolved into the company's current 41-foot model—a relatively conventional cruising cat with a bridge deck main cabin and sleeping quarters in the hulls.
By contrast, the upcoming Maine Cat 38 is an open bridgedeck design with the galley, head and sleeping quarters situated in the two hulls. The cockpit extends forward almost the entire length of the bridgedeck, sheltered by a hardtop with 270-degree glazing. Experienced boaters will immediately recognize the versatility of this expansive indoor/outdoor living area, which can be easily closed off with a roll-down canvas cover whenever the weather deteriorates.
If kept light, the new Maine Cat 38 should be notably quick thanks to relatively narrow hulls (12:1 length-to-beam ratio), and a SA/D of 32.2. Above-water chines function as spray deflectors, while providing reserve buoyancy when heavily loaded and driving hard. Last but not least, they create enough beam to fit proper double berths.
Maine Cat builds premium boats using vinylester resins, stitched unidirectional reinforcements and Core-Cell foam coring. For the new 38, Vermeulen and his team have adapted resin infusion technology to boost glass/resin ratios and maximize laminate quality. Maine Cat's interior fibreglass surfaces are typically so fair and smooth that no molded liners are required—a significant reduction in weight, not to mention wasted space. Exterior finish is two-part polyurethane paint, again a worthwhile weight savings by comparison to gelcoat.
Introductory pricing for a fully commissioned Maine Cat 38 with a generous cruising inventory is currently listed at US$337,000. Of particular interest to potential West Coast buyers, the boat is designed so it can be shipped from Bremerton, Maine, in two standard containers. Once on site, a small factory crew can fly in to perform the final assembly at a much lower cost than other delivery options.