Dufour Grand Large 560
By Zuzana Prochazka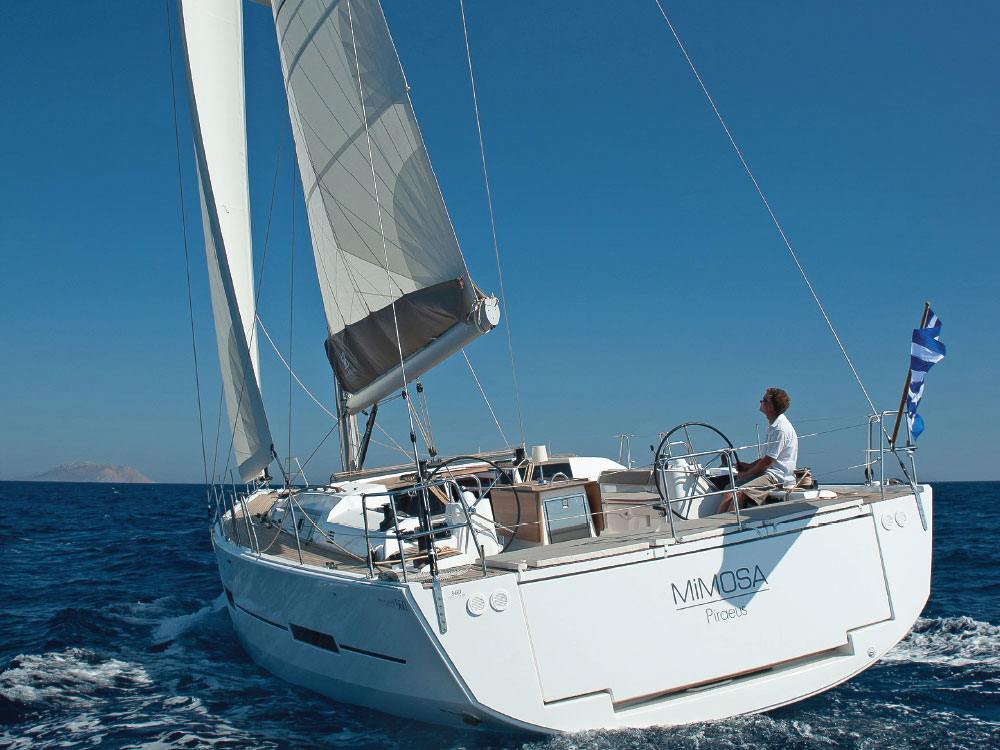 Although not radically different from her smaller sibling, the Dufour Grand Large 560 has taken the same groundbreaking details of the 500 and improved on them in several ways. Most notable however, is that despite her size, the GL 560 couldn't be easier, and more fun, to sail.
Design and Construction  The construction of the GL 560 consists of a hand-laminated and vacuum bonded polyester/foam core sandwich hull (solid glass below the waterline) molded as a single piece. An inward flange provides a solid bulwark at the joint that helps alleviate stress during de-molding. An integral grid that helps distribute loads is fused to the hull and over-laminated in high stress areas. This is a dry layup that allows precise control of the fibre and resin placement and results in lighter finished parts, faster preparation and a cleaner, more eco-friendly process overall.
Like their first boats from the 1960s, the Dufour 560 has an L-shaped cast iron keel with a large volume bulb, here offered in two depths: seven feet, two inches and eight feet, two inches. The balanced elliptical rudder minimizes drag and provides good responsiveness and grip even when healing.
The 7/8s fractional rig supports double aft-swept spreaders and a total sail area of 1,400 square feet that splits between the 87 percent self-tacking jib and a traditional or furling mainsail. 
The deck-stepped mast is by Z-Spars and has been placed farther forward which creates a large main that, on our test boat, was on an in-mast furler. The sail plan can be optimized in several ways. The self-tacking jib may be replaced by a full overlapping genoa with the addition of deck-mounted tracks while an optional inner forestay can support a hank-on or furling staysail that still leaves enough of a slot to tack a large genoa. This versatility means that the needs of casual coastal cruisers, club racers and even offshore passage-makers may be accommodated.
On Deck  The bow on the GL 560 has been modified with an integrated bowsprit or "Delphinere" that is a strong stainless steel structure overlaid with fibreglass to make it blend with the hull. Unlike on the GL 500 where the anchor must be hoisted out of the locker, this sprit now provides a place for a traditional anchor roller as well as an attachment point for a gennaker.
A skipper's cabin has been added with access via a deck hatch. According to Dufour, this addition may have been the leading impetus to developing this larger model because although American boaters are likely to manage a 56-foot boat themselves, in Europe and in other parts of the world, up to 70 percent of owners may have a professional captain manage the vessel. For anyone not needing the extra cabin, the space makes an excellent sail locker.
The aft end of the boat was also modified and improved. Dufour's now-famous aft "tower" still holds a grill, a sink and a prep surface so you can stand on the drop-down transom and grill as we did when motoring back to the marina. However, the whole transom top was made deeper which creates a fantastic sun lounge that is still away from the working part of the cockpit.
Dufour has once again, included the "manoeuvering" and "comfort" zones of the cockpit. The forward section has twin settees that will seat up to eight and a table that holds an optional sink and Isotherm fridge. The port side settee still forms into a double sun pad or a sea berth. In the working portion, twin helms have primary winches within easy reach and the mainsheet is double-ended so it can be adjusted from either side. On our test boat, Raymarine electronics and instruments were at both wheels.
The jib sheets run to winches on the cabintop while genoa sheets would run aft to the primaries or secondaries. The cockpit sections are so well segregated that those wishing to socialize and those running the boat are never at odds. I counted 10 people aboard for our test sail and none of us felt cramped or in the way at any time.
Down Below  Anyone familiar with the Grand Large 500 will instantly recognize the GL 560's interior. The saloon has a U-shaped settee and convertible table to port and an L-shaped settee to starboard with a fixed, forward-facing nav station. The galley is still athwartships ahead of, and separated from, the saloon by two half bulkheads that also serve as cabinets—one stores dishes and the other holds the aft-facing popup flatscreen TV. The sink has been moved to port and closer to the stove, which is an improvement because it was a long way to go to cross the galley with a hot pot on the GL 500. The fridge and freezer are now a stand-up unit to starboard. The hinging Nespresso coffee maker is still nestled in an overhead locker.
There are a myriad of layout options. Two guest cabins are aft with two head/shower compartments. An option is to add an over/under cabin to starboard but that means losing both the starboard-side head and the nav station and it is unlikely to be popular with anyone but charter companies. The saloon and galley areas stay mostly the same but then there are four choices of forward sleeping quarters. Three of these are owner options offering either a centreline island berth with split head and shower compartments, a traditional Pullman berth to port with a combined head forward in the bow, or what is likely to be the most popular option, an island berth offset to port where both people can get out of bed on their own side, which creates room for an outboard lounge. The fourth option divides this area into two cabins, again most likely to be targeted at charter companies.
Dufour's signature wine rack below the saloon cabin sole has been expanded and holds 15 bottles laying down plus 10 standing up. But since this is a French boat, a drawer under the settee holds another eight bottles while six more can hide in the galley divider. That's 39 bottles in total so you can always be stocked up for entertaining.
Power and Systems  Auxiliary power is provided by a 110 horsepower Volvo Penta diesel which is upgradable to a 150 horsepower engine. Dufour opted for a V-drive where the front of the engine faces aft and the transmission is mounted forward. This arrangement allows the placement of the engine farther aft in the boat. In a standard shaft configuration, to achieve the proper shaft angle, the engine would have had to be four feet farther forward, situating it in the saloon, which would have destroyed the flow of the living area so the V-drive offered a solution.
A five-blade feathering Max-Prop propeller is standard on the 150 horsepower upgrade with a four-blade folding prop offered on the 110 horsepower engine. On flat water, we motored back to the slip at 9.4 knots at 2,800 rpm with the larger engine. Tankage is the same as on the GL 500 with 180 gallons of water in three tanks.
Underway  We peeled away from the dock with the help of the retractable Side-Power bow thruster. I found it surprisingly quiet even as it moved quite a lot of water against the dock. Beyond the Marina Del Rey jetty, we rolled out the in-mast mainsail and the jib and shut down the motor. The boat had just been splashed and the wind instruments had not yet been calibrated so we guessed that we were enjoying a breeze of eight to 10 knots. That might not seem like much to move a boat with a displacement of nearly 40,000 pounds but off we went.
The GL 560 can point. The tight sheeting angles of the self-tackling jib certainly helped and we had a very narrow and tidy slot between the two sails as we slipped along at 8.5 knots at about 40 degrees apparent wind angle. With a borrowed (and slightly undersized) A-sail, we added about a knot when off the wind.
It's really quite a large expanse of deck when you're looking forward from the wheel and as I steered through the mellow breeze a few things struck me. First, was the impressive acreage of boat ahead of me and its ability to point and glide comfortably through small chop. Second, was her responsiveness and easy tacking. The steering was one-finger light and the tacks were quick and hassle-free.
Concluding Remarks  The GL 560 may be the biggest in the line but it's no harder to sail than a 30-footer and that will undoubtedly appeal to a broad spectrum of buyers. This boat is currently available in Vancouver for a sail-away, landed, duty-paid price of CAD $786,911.