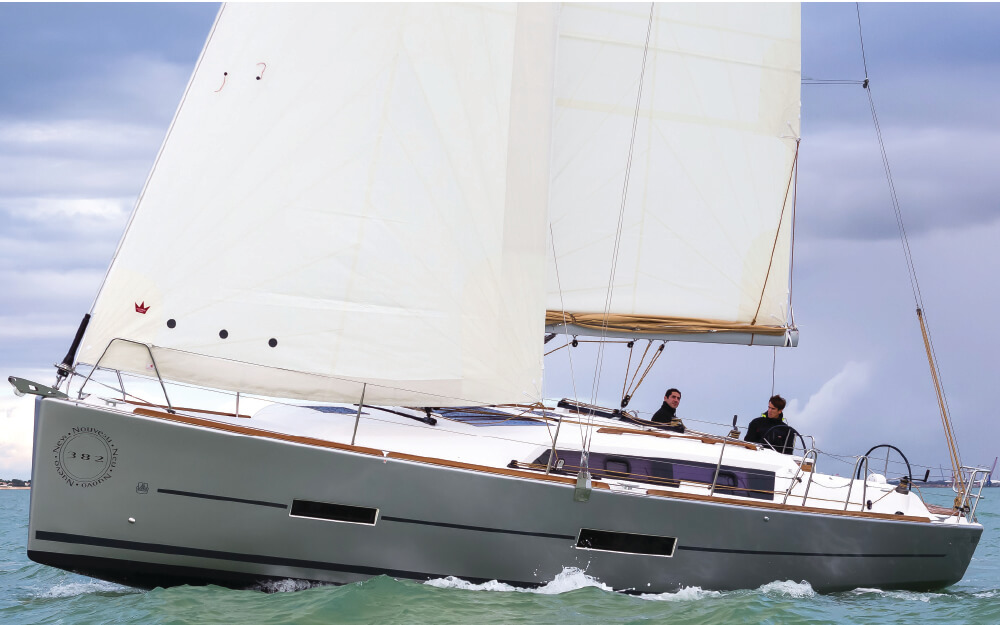 Major production builders often derive new models from pre-existing ones because it's generally quicker and less costly than starting from scratch. But, it should be noted that there's no industry standard for what qualifies as a genuinely new model. Often as not, it takes a bit of research to determine whether the latest offering is substantially different from its immediate predecessor or more along the lines of what the auto business might describe as a mid-term refresh.
Not so with the all-new Dufour 382 Grand Large. Comparing this boat—unveiled last summer in Sweden—with the Grand Large 380 circa 2013, it's evident that the new model designation is fully justified this time around. Where as the 380 had differed only in detail from the 2011-vintage 375; the 382 comes across as a very different boat. Admittedly, all three are close in terms of basic dimensions, but the 382's hull now sports aft chines and, as a result, offers significantly greater above-water beam and fullness close to the stern. A new deck also features larger cabin windows, impressively clean styling and enormous overhead skylights. The cockpit is now both longer and wider, while the swing-down transom grid takes advantage of the broader stern to gain some extra acreage.
Although it doesn't show in some of the renderings, the new 382 has foldaway forward-facing helm seats behind the twin wheels. Comparable seating in the 375 was omitted from the 380, so its reappearance is evidence that Dufour's decision makers have been listening to agents and owners. Similarly there is now the option of a second head, because increasingly these days, a single head arrangement becomes a deal-breaker—even in the mid-30 size range.
Adding the second head does require selecting the linear, Euro-style galley and it also means giving up a dedicated nav station. But don't forget, this is only a 36-footer.
Ultimately, where Dufour's 382 really departs from it predecessors is below decks. Instead of just two arrangements, prospective buyers now get to choose from six different interior layouts with either two or three double berth cabins, mid-ship or aft galley, and either one or two heads. Woodwork can be specified in either medium-toned moabi or light oak. A sense of space in the saloon is greatly enhanced by large opening panels in the main bulkhead, which create an unobstructed line of sight from the companionway all the way to the bow.
The 375 and 380 were distinguished by a rather off-beat pullman berth in the forward cabin—eliminated now in the 382, and replaced by a conventional V-berth arrangement. Extra care appears to have gone into fitting plenty of stowage cabinets, bins and drawers—a key area that's often short changed as cost-conscious builders strive to trim the prices of their smaller models. Even the fridge aboard the 382 is a front-loading design with two drawers to facilitate easy access. Most of the six layouts also incorporate a dedicated wet gear locker—another valuable feature that's sometimes omitted in yachts of this size.
Hull construction for all Dufours up to 50 feet is conventional hand-laid solid fibreglass in the hull, combined with a lightweight resin-injected deck filled with injected PVC foam. Naturally, weight savings in the deck structure has a disproportionate effect on stability and performance, so it makes sense to put the "high tech" where it does the most good. As a bonus, both inner and outer deck surfaces emerge from the closed, two-part mold with a polished gelcoat finish, so there's no need for separate overhead liners.
The 382 Grand Large is first-and-foremost a cruising yacht that will likely sell more on style, comfort, and livability rather than raw sailing speed. That said, with a SA/D of 18.5, a clean underbody and modern foils, buyers can still look forward to some fairly spicy sailing. Of course those who want a similar-sized Dufour with true racer/cruiser credentials can turn to the company's 36 Performance model, which is narrower and 10 percent lighter than the 382 with a deeper, slightly heavier keel and a SA/D of 21.3.
Dufour yard has a 50-year history building yachts in La Rochelle, France—pretty much ground zero for the ultra-competitive European sailing market. The brand had been purchased in 2010 by Germany's Bavaria Yachts, but returned to independent status three years later following a management buy-out. Now, humming along as a mid-sized builder averaging about 350 boats per year, Dufour appears to have found a sweet spot when it comes to delivering style, functionality and lively performance at a reasonable price.
Sydney Yachts began
as an upstart Australian company building J/24s under license before turning to bigger yachts during the early 1990s. High performance has always been a central theme for this builder, but their boats also enjoy a superb reputation for toughness—a prerequisite for surviving hell-for-leather racing in the southern ocean.
The Sydney 38 One Design is their best-known model (65 built), and in some years up to 10 percent of the Sydney-Hobart racers have been homegrown boats launched by this modest Aussie yard.
However, times change, and with Australian wages and real estate becoming too costly to sustain domestic boatbuilding, Sydney Yachts set out to find an overseas partner. In 2013, they partnered with AD Boats, which operates an ultra-modern facility near Split, Croatia, on the historic Dalmatian coast. This is the same plant that produces the Salona line of cruising/racing yachts from 33 to 67 feet. AD Boats is, in turn, a subsidiary of the German Protection Group—a major corporation that's active in many and varied industries.
From the perspective of Sydney Yachts, it made sense to shift production closer to the major European markets with the potential to sell through an existing network of Salona dealers. As for new, cutting-edge designs, they already had a couple in the works: the GTS 43 and GTS 37 from the computer screen of Jason Ker, a remarkably successful young British designer.
Jason Ker has built a reputation for drafting dual-purpose boats that perform exceptionally under the internationally-popular IRC rule (which has lately made inroads even here in the Northwest where, for decades, PHRF handicapping has reigned supreme). The underlying principle of IRC is a "secret formula" known only to a handful of geeks who toil away in the back rooms of administrative offices. In principle, this element of secrecy ensures that naval architects won't be able to optimize their designs to achieve better-than-predicted racing performance. Of course, some boats still manage to out-perform others under IRC, and a few designers including Ker have proven to be wizards when it comes to cracking the code.
Sydney Yachts GTS 37 and its slightly elder sibling, the GTS 43, are second generation IRC-oriented boats which have moved away from a "heavy and tippy" model, but compensated by finding sufficient extra speed through refinements in hull design. Unlike the ugly, slab-sided raceboats fostered by the IMS rule (now thankfully defunct), the Ker's GTS designs have generously flared topsides. Everything is luxuriantly curved—no hint of a chine—and the transoms in particular have a rounded trapezoidal profile that, to my eye, looks pretty sweet.
IRC encourages decent headroom and cruising amenities, so even the smaller GTS 37 offers both. There are three double cabins, a private head, generous L-shaped galley, and a full-sized nav station. The furnishings are predominantly molded fibreglass (trimmed out with a bit of wood), and they double as key structural elements reinforcing the lightweight foam-sandwich hull. This is critical, because a modern performance boat like the GTS 37 will be fairly narrow at the waterline to minimize light air drag, so it needs a deep, heavy keel for sail-carrying power.
A final ballast figure for the GTS 37 has not yet been released, but the Sydney GTS 43 is equipped with a 4,400 kg keel representing 63 percent of the 6,950 kg displacement. Any modern race boat that carries more than half it's all-up weight in a cast lead keel bulb more than two metres below the surface is sure to be a potent machine, and the GTS 37 will definitely fall into this category.
Sophisticated construction is, of course, critical for a boat with this high a ballast ratio if it's to withstand the rigours of offshore racing. The GTS 37 will be built using primarily vacuum-consolidated e-glass reinforcements with premium foam coring throughout. On the other hand, the additional expense of an all-carbon build would not have made sense in the context of the IMC rule.
Although Sydney Yachts describes their GTS 37 and GTS 43 models as "75 percent race and 25 percent cruise," there's no question that either one would be perfectly adequate for weekend jaunts or an annual family cruise. Of course higher performance comes at a price—at least 50 percent more than a mainstream production cruiser of similar size, and even more if outfitted with a full inventory of high-end racing sails.