Delphia 46 DS
By Sven Donaldson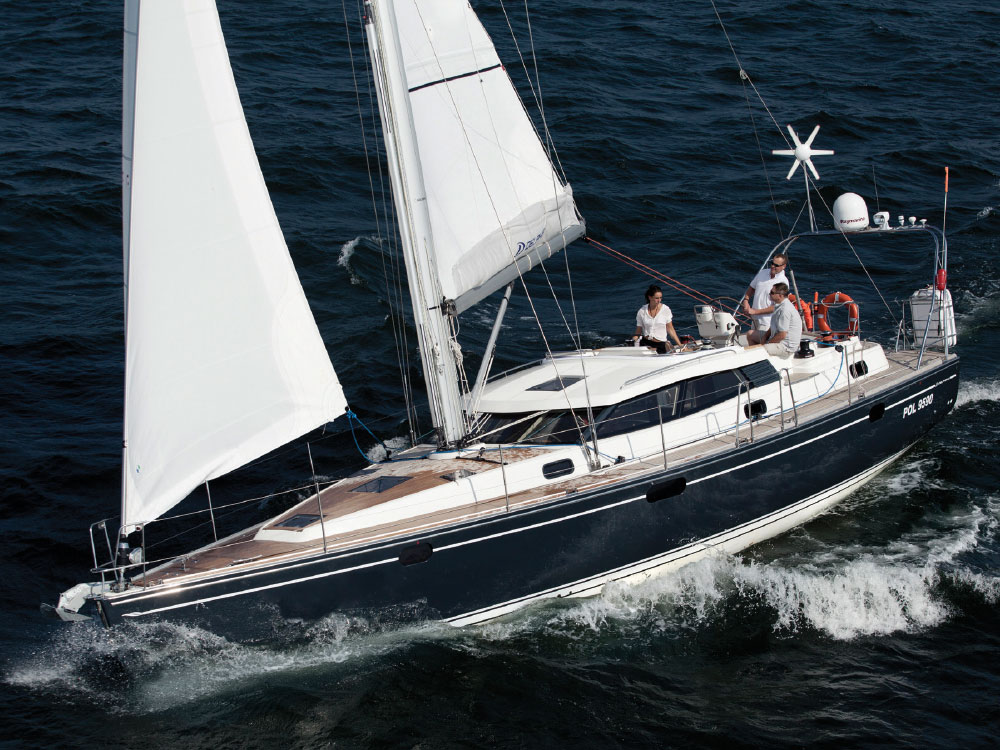 Poland's pre-eminent pleasure craft builder is Delphia Yachts; and with an average annual output of 2,000 boats, it's easily the largest in Eastern Europe. After more than 25 years in business, Delphia currently produces a total of nine power and eight sailing models. The company's hallmarks are honest, somewhat old-school construction values, handsome timber interiors and the inventive naval architecture of house designer Andrzej Skrzat. Several years ago, when Delphia had representation in Seattle, Pacific Yachting tested two models, and there was no question that both delivered some serious bang for the buck.
Until a planned 53-foot model sees the light of day, the aft-cockpit Delphia 47 will remain the flagship of the company's sailing series. However, the same 46-foot hull was also the basis of the 2011-vintage Delphia 46 Centre Cockpit, now morphed into the 46 Deck Saloon that is featured here. Unveiled in January at Boot Dusseldorf, the new Delphia 46 DS offers some worthwhile refinements to what was already an unusually creative example of contemporary yacht design.
Like its predecessor, the 46 CC, the new DS variant features a prominent raised deckhouse with enormous picture windows on the front and both sides. From the cockpit, it's only four steps down to the saloon because this area too is substantially elevated. Like some of the early deck saloons by Jeanneau and Wauquiez, Skrzak's arrangement features a starboard-side dinette that's positioned a step above the rest of the saloon. Folks seated at the raised dinette get an all-around view, while those standing in the saloon itself will also enjoy ideal sight lines.
Although both boats share the same basic hull and deck, the new 46 DS improves upon the 46 CC in several important ways. The forward-facing navigation station, formerly situated at the front of the saloon to port, has been relocated to starboard; and the forward bench seat for the dinette now doubles as an inside nav/helm seat (thanks to a reversible back rest). The new dinette, although marginally smaller than before, now has only fore-and-aft seating, so everyone gets a superior outside view.
The new saloon arrangement permits a much larger linear galley extending the full length of the saloon to port, so the cook—no longer positioned aft and a step below—gets to enjoy the same outstanding view as everyone else. Ample space beneath the tiered floors of the saloon offers an abundance of stowage, while at the same time, allowing tankage, batteries and the gen-set to be positioned very low and nearly amidships.
Delphia's original 46 CC offered a couple of three-cabin arrangements including an interesting variant with a midships single extending beneath the dinette and a pullman-style double berth cabin slightly further forward. It was an unusual arrangement—which centred all berths amidships for better sleeping comfort in a seaway. However, it might have been a bit too unusual, because the only published layout for the new 46 DS is a two cabin, two head plan with one large V-berth forward. A small compartment just forward of the galley could accommodate a single berth, but is likely better suited for a laundry and/or work area.
Rather than positioning the engine compartment beneath the central cockpit sole—the arrangement typically seen in traditional centre cockpit designs—the Delphia 46 DS fits the engine further forward, so the space directly beneath the cockpit becomes an island berth in the sumptuous owners' suite.
The Delphia 46 DS is clearly geared toward onboard comfort and offshore seaworthiness. However, in pure sailing terms, it should also measure up pretty well. The displacement-to-length ratio of 190 indicates a wholesome design with good stability and weight-carrying capacity. But there's also plenty of sail power on tap to maintain some decent pace in lighter winds (SA/D=20.7). For shoal capabilities there's a shallow fixed keel option drawing 1.8 metres, and a keel centreboard version with twin rudders that can float in just 1.3 metres of water.
At present, Delphia lacks West Coast representation, but the brand is available through four dealers in the northeast and Great Lakes including Navipro Yachts of Mississauga, Ontario which is currently listing a new 46 DS for $485,175 USD.
Skimming above the water aboard a foil-borne sailboat has historically been a rare privilege reserved for a few lucky sailors with deep pockets, extraordinary skills, or better yet, a combination of all of these. However, the remarkable sight of a 72-foot foiling catamaran routinely exceeding 40 knots in the 2013 America's Cup has fired the imaginations of keen sailors world-wide, and today there are dozens, perhaps hundreds, of foiling projects at various stages of development.
The foiling catamarans that hurled across San Francisco Bay during the 34th America's Cup utilized the so-called "J-foil" that turns outward and upward toward its tip. In principle, this configuration gives a J-foil boat the ability to sustain flight at a fixed "altitude" (i.e. distance above the water's surface) with no need for moving parts. In practice, J-foils have proven very challenging: they are difficult to design, costly to build, and ultimately tough to operate successfully. Although the fastest foiling sailboats are currently using J-foil systems and several high-performance beach cats can be purchased with this option, they remain costly and relatively demanding to handle.
Another type of hydrofoil, known as the T-foil, consists of a horizontal "wing" at the bottom of a vertical fin. T-foils require active trimming to maintain the "wing" at an appropriate distance below the surface and hence the hull it supports at a constant altitude. While it isn't feasible to do this high-speed trimming manually, the chore is readily handled by a simple control system consisting of a surface-skimming wand that mechanically actuates a hinged flap on the trailing edge of the horizontal foil. To date, all foilers that could possibly be described as "user friendly" utilize T-foils controlled automatically via a surface-sensing wand.
The Moth  The 12-foot International Moth is a pint-sized developmental dinghy that has, in recent years, turned to foiling in a major way. With a hull that's barely a foot wide and broad hiking racks that enable the skipper to perch far outboard to offset the heeling moment from a powerful una-rig, even a non-foiling Moth is a tricky little beast. As for the foilers, suffice it to say, that even an expert dinghy racer will be facing a very steep learning curve. On the other hand, foiling Moths are fast—quicker than an Olympic 49er or any of the conventional beach cats—so naturally, there's a great deal of interest.
The Waszp  Now, after five years of intensive R&D, a leading producer of foiling Moths is releasing a small foiler that superficially resembles a Moth, but with lower cost, greater durability and ease-of-use as the primary criteria. A fully rigged Waszp weighs 45 kilograms (as compared to 30 kilograms for a state-of-the-art Mach 2 Moth) and the foils are extruded aluminium rather than carbon. There are innumerable clever features aimed at making the Waszp considerably easier to learn and handle than a full-fledged foiling Moth. And at half the price—approximately US$11,600—the Australian builder has taken over 100 deposits with deliveries to commence this spring.
The Solent Whisper  OK, so even a de-tuned variation on the foiling Moth theme will still present a rather daunting proposition for most intermediate sailors. So how about an even easier way to launch into foiling? The Solent Whisper is a 17-foot catamaran equipped with four T-foils (daggerboards and rudders). Developed by designer Ron Price and a team of enthusiasts associated with the famous naval architecture programs at Southampton's Solent University in southern England, the Whisper is now in production at White Formula UK, an established builder of high-performance catamarans. Thanks to high-tech carbon construction and numerous weight-trimming details, a fully rigged Whisper weighs in at just 78 kilograms (171 pounds).
The Solent Whisper will reportedly go foil-borne in a five-knot breeze, and can exceed 25 knots in stronger winds. Those who have tried it also say that it's remarkably easy to sail—essentially no more difficult than a conventional, performance-oriented beach cat. So what is there not to like? Well the price perhaps—US$36,000 is a fair chunk of change for a day sailing catamaran, no matter how sophisticated and enjoyable.
All the same, the arrival of boats like the Waszp and the Whisper are clear evidence that foil-borne sailing—once virtually inaccessible to the average recreational sailor—is entering a new, more democratic phase. This is gonna be fun!