DeFever 52 Euro
By Peter A. Robson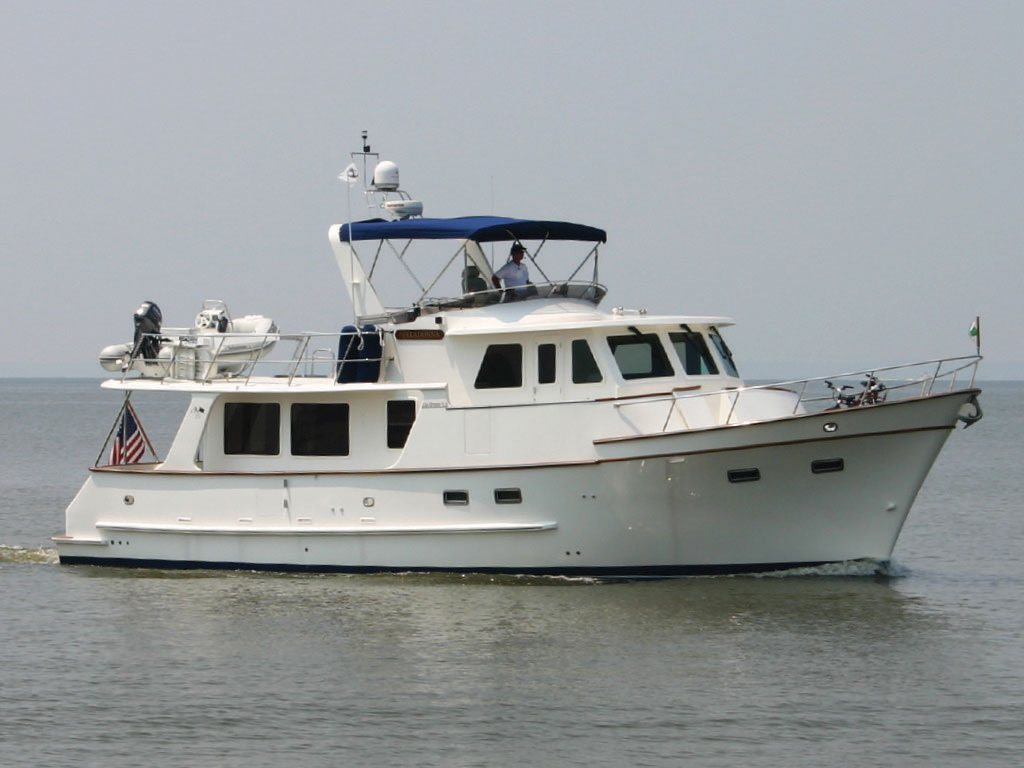 Arthur DeFever (1918–2013) was one of the earliest architects of the trawler pleasure yacht. He studied naval architecture in California in the 1940s and started designing commercial tuna clippers for the San Diego fleet in the 1950s. Before long, his deep-draft, full-displacement designs gained a reputation for their sea-kindliness, durability, efficiency and safety—vessels that could spend long periods at sea in relative comfort. When asked in the early 1960s to repurpose his proven hull design for long-distance pleasure cruising, the trawler yacht was born. Over the years Arthur DeFever came up with more than 100 different designs and between 3,000 and 4,000 were built throughout the world. For the past 35 years, the DeFever line has been built by POCTA Yachts (Pacific Ocean Countries Trading Association), which builds only DeFever designs (at the rate of three to five per year). Wilson Lin heads up POCTA, which is based in Taiwan and has its manufacturing facility in mainland China. As an architect and designer, he worked alongside Arthur DeFever for most of those years, so he knows a fair bit about building DeFever yachts. 
Design and Construction  The 52 Euro is a full-displacement, raised pilothouse trawler with classic lines, high bow and narrow entry. The hull and its interior layout are the same as the DeFever 50 Pilot House, first built in 2007 to replace the very popular DeFever 49, of which several hundred were built. The only difference between the 50 Pilot House and the 52 Euro is the addition of a hull-extending swim platform in the latter, and this adds almost three feet to the waterline length.
The hull, from the full keel to the bulwarks, is constructed from solid, hand-laid fibreglass about an inch and a half thick below the waterline and half of that for the topsides. The hull-deck joint is standard shoebox fit with fasteners and is fully glassed in position. The decks and superstructure utilize a number of different coring materials, including foam and balsa, depending on the structural requirements. Four full-length foam-cored stringers provide structural integrity and all bulkheads are fully tabbed and glassed. The interior of each yacht is framed by hand. All fixed windows are bonded glass, which eliminates the potential issue with leaking aluminum frames.
On Deck Wide side decks (with handy cam cleats for hanging the fenders), high bulwarks and the shelter provided by the Portuguese bridge make for comfortable and safe movement on deck. The foredeck is clean and simple with a heavy-duty windlass. The all-chain rode is stored in a locker under deck and, as with most traditional trawlers, is only accessible from the forward cabin. The covered cockpit offers shelter from sun and rain.
We like that the test boat had no fixed seating as this allows portable deck chairs and a table to be moved around in multiple configurations—and no need to find storage for bulky settee cushions. The swim platform, with stainless staple rails for safety, is the primary boarding access, though there are midship doors in the bulwarks. Beneath the cockpit is a massive locker with tons of storage for assorted gear. There's also a watertight hatch to the engine (additional access is through another watertight bulkhead in the master stateroom).
Primary access to the flybridge is via a stairway in the pilothouse, though there is ladder access from the cockpit. A bimini top that extends aft to the radar arch shelters the flybridge. While a full flybridge enclosure could be installed, the comfy pilothouse below is the place to be in adverse weather. Two helm seats and an L-shaped settee and hi-lo table provide seating for about eight. There's also a modular wet bar with fridge and sink and a handy hinged side table to provide extra counter space. Standard duplicate helm station controls and gauges are built into the forward console. The after portion of the flybridge is open deck (with stainless safety railings) and is perfect for dinghy storage and other water toys/fishing gear. There's also room for a hydraulic davit to launch the dinghy. Teak caprails are an option, but the test boat had fibreglass caprails. Although not as visually appealing, this makes for easy maintenance and eliminates the need for varnishing. 
Interior  Primary access to the saloon is via a heavy teak door in the cockpit. There's also an adjoining half-width door. One is first impressed by the abundance of teak cabinetry, furniture and the teak and holly flooring. This contrasts nicely with the white upholstered settee cushions, the plush black upholstered lounge chairs and the speckled granite countertops. Visibility outside is good through large tinted glass windows.
To port is an L-shaped settee fronted by a hi-lo teak table that hinges open to serve as a dining table. There is an optional slide-out settee or a convertible sofa that can sleep two. Across is an entertainment centre with built-in pop-up TV. Solid overhead handrails should make it safe to move about safely in rough seas. Forward and to port is the spacious U-shaped galley. There's plenty of counterspace and excellent storage above and below to meet the needs of any chef. The test boat was fitted with a Force 10 propane stove with oven and exhaust blower, double sink with garbage disposal unit, convection microwave and a trash compactor. There's room for a dishwasher if desired. There are two up-down sliding windows for ventilation, one in the galley and one directly across. Two bar stools allow for galley countertop dining or just hanging around while the chef is at work. Across to starboard is a full-size fridge/freezer unit.
The pilothouse is forward and a few steps up. As per most pilothouse trawlers, there is a L-shaped settee aft (which can serve as a single berth) with table and a helm console (with destroyer wheel) and counter space that extends full beam. There's a proper chart drawer and ample room to lay out paper charts on the counter. There are several other drawers to store cruising guides and other navigation and communications gear. The test boat was not fitted with a helm chair, but the helm controls and instruments were central and laid out nicely as one would expect. The test boat was equipped with a full Furuno navigation package and an ICOM VHF radio. We especially liked the two, locally-built Diamond Sea Glaze Dutch doors, which allow either the top half or the full door to be opened. This option provides ventilation and security should a bit of green water come aboard. A stairway to starboard leads up to the pilothouse and forward is access to the accommodation areas below.
In the accommodation area, the master is under the saloon while the guest stateroom is in the bow. The companionway also gives access to the guest head/day head and a cabinet with stacked washer and dryer. Once again, there's plenty of satin-finished teak down below which gives a warm, cozy feel. The louvered locker doors will provide ventilation and should help avoid mildewed clothes.
The guest stateroom features stacked, overlapping, single berths, which are practical because the narrow entry of the bow means there's not a lot of width.
Both heads feature separate shower stalls (the ensuite shower is completely tiled), which are good sized, with exhaust blowers, granite countertops and quality Dometic MasterFlush toilets with internal macerators.
The master is dominated by a queen size island berth with side tables, dresser, walk-in closet, hanging locker and plenty of storage in under-bunk drawers. There's also a heavy watertight door to the engine room.
Engine and Systems  The test boat was powered by twin 6.8-litre, 300 horsepower John Deere Tier 3, common rail diesels with electronic controls. Attached via flexible couplings, they direct-drive two-inch shafts and four-bladed props. Optional power is twin 200 horsepower John Deeres. The spacious engine room, with its five-foot, six-inches of headroom, especially impressed us. There is plenty of access around the engines, which are surrounded by stainless rails—a smart safety feature. Teak flooring is used in the main walkway between the engines. The wiring appears neat and clean. This is a serious engine room, with all the gear nicely laid out and easily accessible should repairs be necessary at sea. The test boat was fitted with Naiad hydraulic active fin stabilizers to help keep the boat rock solid in most sea conditions and a Side-Power electric bow thruster for manoeuverability. Auxiliary power is provided by a 12.5 kW Westerbeke generator. Heating and cooling throughout is via three-zone, reverse cycle air. Battery power is via two banks of two 12-volt 220-amp batteries, with additional separate batteries for the bow thruster and generator. Shore power is via a 50-amp, 240-volt connection.
Underway  The combination of twin props and bow thruster made it pretty easy to manoeuver in and out of our berth at Shilshole Bay Marina in Seattle. Visibility aft from the inside helm station is inherently poor on all pilothouse trawlers, and the DeFever is no exception, though this is certainly not a game stopper. That said, visibility over the bow and abeam is excellent.
Once in open water, the 52 accelerated nicely and felt very comfortable. At an easy cruising speed of 8.6 knots (1,500 rpm), our fuel efficiency was about a mile per gallon. At 9.5 knots, (1,850 rpm), our fuel efficiency dropped to about 0.73 miles per gallon, but according to broker Fred Parker, this is his sweet spot as far as sound, feel and the ability to get to the destination that much faster. Top speed was 11.8 knots (2,545 rpm). Once the yacht exceeds about nine knots, the fuel numbers aren't great, but not unusual for a relatively heavy, full displacement yacht. The steering proved solid at all speeds and when we accelerated from a stop with the helm hard over, there was no cavitation or slipping and our turning radius wasn't much more than two boat lengths. There was only about a one-foot chop on the day of our sea trials, but regardless, the 52, with its solid glass hull, was rock solid when crossing the few big wakes we could find. DeFever has a reputation for comfortable and seaworthy handling even in offshore conditions, and we felt confident that this would have been proven out if we'd been there.
Concluding Remarks At US$1.24 million (as equipped), the 52 DeFever Euro offers a lot for a reasonable cost. While some comparable trawlers have gone to semi-displacement hulls with double or triple the horsepower to gain a few extra knots, we like that the 52 DeFever has not tried to compete, and instead can do pretty well as much with a fraction of the horsepower. This translates to less initial and ongoing maintenance cost for the engines and a lower fuel bill.
DeFever yachts have an excellent reputation for seaworthiness and POCTA has been building DeFevers exclusively for 35 years, so they've got a very high experience level with this brand. With plenty of storage, plenty of fuel, a large, well-equipped galley and a cozy but functional interior design, this yacht has all the characteristics of a true offshore passagemaker. This is a worthy yacht for serious cruisers who want to go places.