Back Cove 30
By Peter A. Robson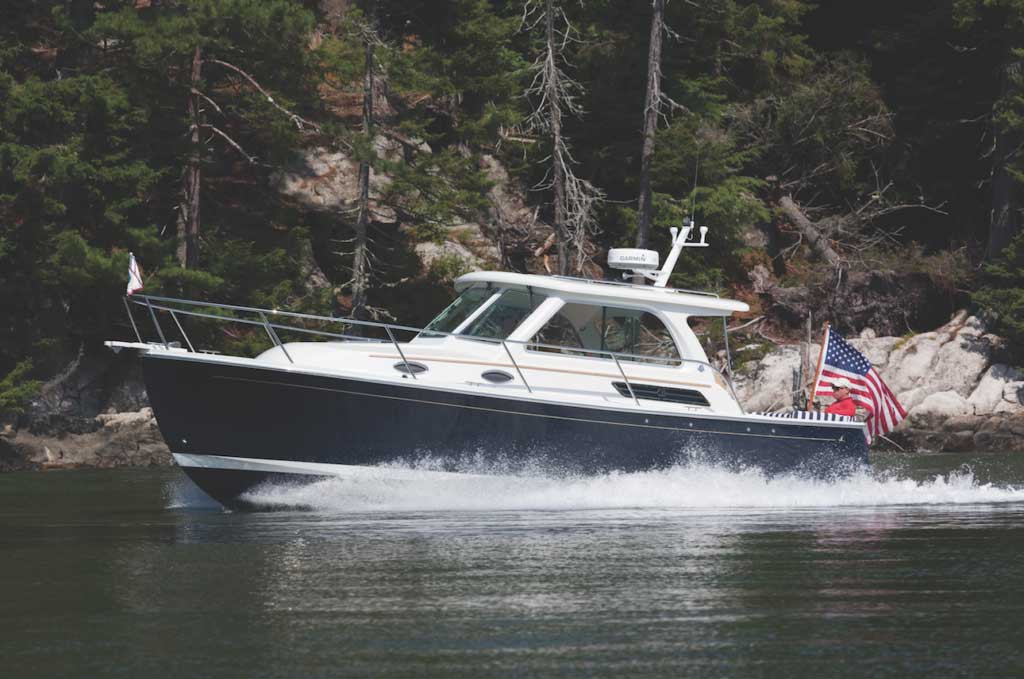 Back Cove Yachts is a division of Sabre Yachts of Maine, builders of the sturdy Sabre and Sabreline line of sail and powerboats. The Back Cove lineup consists of four models (26, 30, 33 and 37 foot) of single-engine fast trawlers styled after East Coast lobster/picnic boats.
The latest offering is the Back Cove 30, and like other Back Coves, the company has done an admirable job of maximizing interior space with a clean, practical and tasteful layout, while offering great performance at the same time.
Design and Construction The Back Cove 30 improves on the design characteristics of the smaller Back Cove 29, which has been discontinued. The design is a well-executed blend of classic and modern with its sleek hardtop, long, straight sheerline and features that include a spoon-shaped bow, slight tumblehome aft and a rounded reverse transom. The deep-V hull has downward turning chines forward, designed to get the 30 up on a plane quickly. Aft, the hull bottom flattens out to a fairly standard 16-degree deadrise. The propeller is tucked up into a recessed pocket to reduce draft and shaft angle (the flatter the angle, the more efficient the
propeller).
The interior is built on a series of molded composite hull liners. The hull and stringer system are constructed using resin-infusion to save weight and maximize strength. There is PVC foam coring in the hull and balsa core in the decks. Back Cove has a reputation for quality construction and the 30 keeps to that standard with very good overall fit and finish.
On Deck Access to the 30 is via a swim grid and centreline outward-opening transom door. The cockpit is fitted with two 90-degree corner settees—great for entertaining on those sunny days. And while many yachts have Spartan cockpits, the striped settees on the Back Cove 30 provide a feeling of comfort and a place where you simply want to hang out and enjoy. There's a handy bracket-mount triangular table that can be moved to service either settee. The only downside is that the settees make it awkward to fish from the cockpit.
Molded steps to port and starboard lead up to wide side decks that are angled slightly inward at the bulwarks to make for better footing. Sturdy perimeter handrails extend back to the cockpit and when combined with hardtop handrails, moving forward is easy and safe under any conditions. The decks are coated with diamond-patterned non-skid surface for good traction. Forward is a deep anchor locker with storage room for fenders and lines. A windlass is optional, but pretty well mandatory in our waters. For those wanting to add items like a radar or lots of antennas, the optional hardtop mast is a practical choice.
Helm Deck Forward of the cockpit and a step up is the helm deck. It has a linear settee (which converts to a berth) facing an L-shaped settee with a table. This area is well suited for lounging and eating. Just forward is the starboard-side helm station with a single helm seat and dash with analog instruments, single-lever mechanical throttle/shifter, bow and stern thruster controls and room for a single multifunction display screen. To port is a double companion seat with a flat area on the dash for laying out paper charts. The companion seat reverses to provide additional lounge seating. The raised helm deck provides great visibility all round for passengers and the operator. Sliding aluminum windows and an opening centre panel in the windscreen provide for good ventilation.
There is a canvas or hardback option to fully enclose this area, which is almost mandatory for West Coast conditions.
Accommodation A translucent sliding hatch separates the helm deck from below decks where the compact head, galley and V-berth are located. The woodwork throughout is varnished cherry with a teak and holly
laminate sole. When not being used for
sleeping, the filler piece in the V-berth is removed and the area provides comfortable seating around an oval table inlaid with birds-eye maple. There are two opening ports on each side and an overhead hatch that provide natural light and ventilation.
The compact head compartment includes an electric head, shower, vanity, opening port and exhaust fan.
The small galley has a dual-voltage front-loading fridge/freezer, microwave oven and single-burner alcohol/electric cooktop. Covers for both the cooktop and sink provide added working space on the solid surface countertops.
Engine and Systems Standard power is a single Yanmar 6LP six-cylinder 315 hp diesel. It is connected to a 1 ½-inch shaft that drives a four-blade NiBrAl propeller. Optional power is a larger Yanmar, Volvo or Cummins (to 370 hp) diesel. An electric bow thruster is standard while a stern thruster is optional. Electric actuated trim tabs are standard. There are four 12-volt Group 31 lead-acid batteries (two for starting, two for the house bank), adequate for most short trips, but for extended cruising—especially if using the electric side of the cooktop, owners would be wise to either add the optional 1,800 watt inverter or four kw Fischer Panda generator and an extra house battery.
There is no heating system included, so the optional Espar diesel forced air heater is a definite must.
Underway There were five adults aboard and full water and fuel when we sea-trialled the 30 in Vancouver's English Bay. Once in open water, the Back Cove really came into its own with peppy handling, fast acceleration and minimal bow lift when coming up to speed. A strong westerly was blowing yet the hull felt rock solid, tracked well and moved gracefully through the chop. For an open boat, the engine noise was relatively quiet, a nice bonus. The steering was responsive, with three turns lock to lock, which we found about perfect. The 30 turned within an impressive 1 1/2 boat lengths. Secondary spray rails and the flared bow kept the waves down and away, making for a dry ride. The solid construction was evident by the lack of creaking cabinetry so common in many vessels.
Once up on the plane, 2,500 rpm delivered 12.5 knots while burning only 6.5 gph (about two mpg). At 3,000 rpm the speed was 18 knots while burning nine gph. Our speed climbed to 24 knots at 3,500 rpm (12.6 gph) and at wide-open-throttle, 3,850 rpm, our speed was an impressive 27 knots while burning 17 gph. It should be noted that there was no fuel consumption gauge on board, so we took the numbers shown here—referenced by rpm—from Yanmar. Overall, thanks in large part to the single engine and slippery design of the 30, fuel economy is pretty close to two nautical miles per gallon, which is impressive by any measure, especially for such a high-speed vessel.
Concluding Remarks We were surprisingly impressed with the performance of the Back Cove 30. It is quick, nimble, very fast and as solid as any other yacht we've tested. It is a great option for those wanting to have high speeds available when needed, but also a vessel that performs just as well at comfortable, fuel-sipping, fast cruising speeds from 12 to 20 knots. While not designed as an extended cruiser or fishing platform, it would serve as an excellent West Coast commuter boat, day cruiser or weekender—especially when fitted with the optional canvas or hardback enclosure. Price as tested was approximately $255,000.